Double-digit savings in economic and environmental terms, important positive effects on the safety of food packaging, full compatibility with existing VOC recovery plants… OQ explains the advantages of propyl-basedsolvents of the Propyls line and presents their new contact for sales in Italy.
OQ is a multinational chemical industry that, in the world of flexible packaging, it is mainly known as a supplier of Oxea's Propyls brand products (now part of the parent company). This is a line of propyl-based solvents (propanol and propyl acetate), alternatives to traditional ethanol and ethyl acetate solvents, used by flexo and roto ink manufacturers and printers to dilute the ink facilitating its transfer onto film. They are spreading internationally because of the many concrete advantages, documented by laboratory tests and application case studies, and made headlines during the lockdown at the beginning of the year, when ethanol, diverted into the large-scale production of disinfectants, disappeared from the printing market: «From our logistics center in Antwerp we supplied inkmakers and converters from all over Europe with Propyls, allowing printers to  carry on regardless», explains Patrick Neumann proudly, Chanel Manager who will be working alongside the new sales manager for Italy Alessandro Tortorella. "A supply capacity that proved itself even when the hurricane Harvey blocked the cargo from Houston for months without European customers even realizing it (OQ produces propyl acetate in Germany and propanol in the USA, Editor's note). The solvents of the Propyls line, however, were already known for the advantages generated by their innovative formula. We had Neumann tell us about them.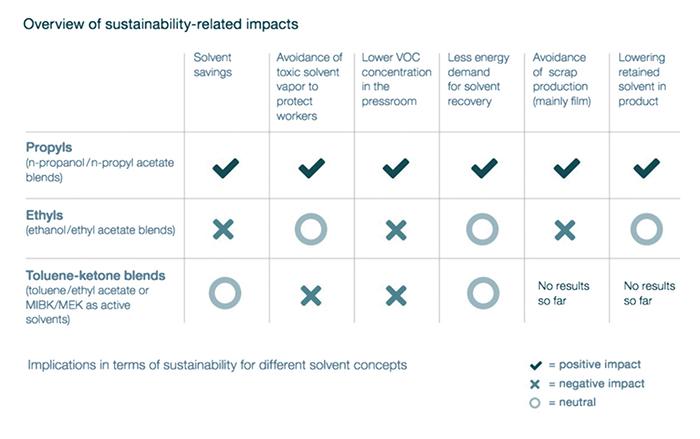 In Brazil, where ethanol is available in large quantities and at low prices, the printing industry replaced it within a few years with the more expensive propyl-based solvents. Why?
Because the real cost of a solution is not the purchase price. Propyls reduce the need for both ink and solvent blends used directly by the converter by an average of 25-30%, generating very significant savings. There are also a number of "hidden savings" that are less easy to quantify but which we have documented on time. For example, Propyls do not contain retardants. These are elements that accumulate along the process, generating anilox cell clogging problems and complications in viscosity management, slowing down the work and increasing waste: at the end of the process they translate into considerable costs. If we then look at the color management, we see that with propyls we obtain a higher density, which,, to give a classic example, enables you to obtain beautifully saturated white backgrounds without having to print twice. This also has a positive impact on the environment.
The theme of sustainability is in fact essential. How do you compare Propyls from this point of view?
Here, too, they bring direct and indirect benefits. First of all, the Propyls formula reduces VOCs by an average 30% thanks to a lower evaporation time, which drastically reduces the emissions to be managed inside and outside the plant. And then, by reducing the need for inks and solvents, it also reduces the amount of products managed at the end of their life cycle, with the related impact on the environment.
But are solvent recovery plant manufacturers able to process these new products?
Yes: they do not involve any changes or problems. We have very positive experiences on this too.
Solvents are also potentially hazardous to health if they migrate to food through the packaging. What guarantees do Propyls offer from this point of view?
You see, the retardants required for using traditional solvents evaporate very slowly and this is the reason why they can remain in the printed film with the risk of migrating to the packaged product. Here the basic characteristic of Propyls is that they do not need retardants. It is a very important contribution we make to the modern food industry, mindful of its basic role for society.
What are the factors that delay the adoption of Propyls?
Well, nobody adopts a new product if in a certain sense they are not "forced" to: traditional solvents cost less, the time to stop the machines and test a Propyls is not easy to find, visits to the plants are hindered by the anti Covid regulations… everyday life offers a thousand reasons for delay. That's why we at OQ are committed to producing clear and comprehensive documentation, accompanied by appropriate tests, to support our proposals. And then… we have just arrived on the scene… give us some more time… Italian printers work with a very high level of expertise: I am convinced that they will appreciate our products.
OQ has a new Sales Manager Italy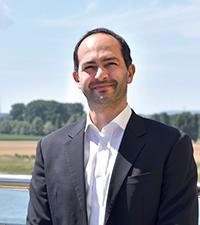 His name is Alessandro Tortorella, he comes from the world of chemical products distribution, where he gained a curriculum full of experiences in large and small concerns. Working in synergy with the specialized technical staff, Tortorella has gained an in-depth knowledge of the products and their respective fields of application, customers and the market in general. For this reason OQ has chosen him as its key figure for the Italian market: the Omani multinational company operates all over the world as a supplier of complete solutions, adding an in-depth and targeted consultancy to the sale of solvents (but OQ also produces PE and PP films).Tortorella will manage relations both with large converters, to whom OQ directly supplies the solvent, and with distributors who create the blends and manage their logistics with many advantages.