Innovative washing and recovery systems that save water and ink and that are emerging as the new industry standard; carbon doctor blades that offer all the benefits of this high-performance material at a a very convenient price; a modular inking system, so "intelligent" that it can also be used as a control hub – not only for the distribution of the fluid but also for the PH, temperature and other machine board equipment … not to mention 4.0 electronics, which allow the collection and analysis of the data useful for plant management and, aboveall, the consultative relationship with the customer, which starts from the analysis of their plant and their needs to be able to formulate an adequate proposal.
This is how two young mechatronic engineers from the Turin Polytechnic started out. Behind them a history of family entrepreneurship that passed on to them the "fundamentals" of management and a tough apprenticeship in the companies of others where they "dirtied their hands" on the machines and tried out all the roles to understand what people were talking about. And also how it feels to be on the other side of the table, as employees.
This the story of Simone Bonaria and Alberto Ferrara, long-time friends and founders of BFT Flexo, set up just three years ago and already a supplier of integrated inking and washing systems to the most successful manufacturers and users of printing machines. A strong and distinctive identity underlies this fast-growing success: «Our competitors are bigger, and long-established on the market. But we are undoubtedly the most dynamic and innovative, from the technological point of view and the approach to problems; and we have a size that allows us to keep costs down, which helps».
Starting out: from absolute novelty to market standard
«In my years as technical director in other companies – says Simone Bonaria – where I not only designed and directed the production, but I also took care of installation at the customer's, I was able to verify that the systems on the market faced common problems both in the fluid handling as well as in the subsequent washing phase.
Among other things, the traditional cycle did not include ink recovery at the end of the job, with losses up to 6-6 liters at every color change and significant economic damage, and here the system builders did not possess the skills to change their approach.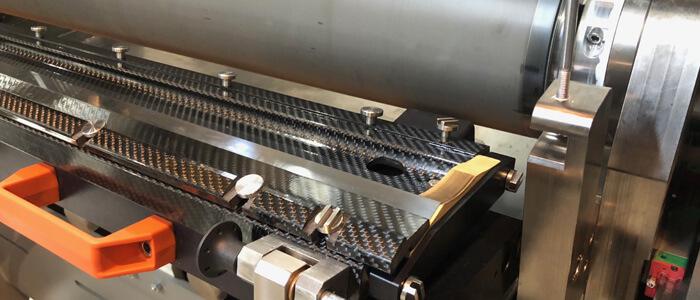 BFT Flexo was born to make superior products. After a year of planning, with the help of advanced electronics and technological contaminations from other sectors, a very flexible and performant, easily interfaceable system was created, perfected in the beta phase by some American converters and adopted by a multinational on its lines. It was a formidable driving force, which also allowed us to open the second division of the group in a joint venture with a company that makes carbon elements, specialized in carbon fiber doctor blade chambers».
But the definitive push came from the direct relationship with the machine builders, when one of the largest global brands entrusted BST Flexo with the construction of their own brand washing systems.
«It was an interesting job and relationship, during which we verified that their designs could be significantly improved, eliminating the problems encountered by users and even reducing costs. Thus the project took off with mutual benefit: they implemented a new technology and we won an important job order, installed on machines of that level. And now, gradually, everyone is contacting us and our product is becoming the new industry standard».
+ electronics = + awareness and – waste
BFT Flexo builds standardized inking systems on a modular basis from 1 to 10 colors, to be assembled according to user's requirements and perfectly interfaceable.
«Our management of fluids, water-based or solvent-based inks, or adhesives as they may be – explains Ferrara – is based on Siemens PLC. Often our solutions are more advanced than the machine they have to serve, so much so that we are proposing them as a control hub, not only of the processing parameters (typically temperature and PH) but also of the auxiliary equipment, such as the attachment and detachment of the doctor blade chamber during the printing phase. When the operator understands what it is all about, he never turns back: they replace control systems with visual indicators and adjustments using pressure gauges, which require years of experience to be used properly. And today the man-machine undergoes a continual shift … ».
And not only that. The parameters of the orders already processed are automatically recalled from the screen, which in the era of short runs is no small advantage. In addition, the BFT systems collect and transmit useful data to generate statistics on the quantities of materials and hours used, errors and interruptions, the duration of the components, allowing the plant manager to check the variables that count and establish an adequate maintenance plan, as well as to intervene before a problem becomes acute and thus stopping production.
«And, never mind how much it is talked about – Bonaria emphasizes – there are very many converters who do not know how to quantify consumption nor are they aware of the cost of consumables used, let alone when it comes to water»: "Water costs nothing" we are all too often told. There is nothing more false than that. And the savings are so significant that they make the difference».
Supply chain partnership
Divulge, offer information and advice, make yourself available to deal with any problem, without looking at your watch or seeing whether "it is within my competence" represents, in the BFT group, one of the greatest reasons for customer distinctiveness and loyalty, with whom one grows together sharing knowledge, discoveries and problems. «Usually – says Bonaria – people work from 8 to 17 and afterwards, if one has a problem, they turn to 24-hour assistance, at very expensive rates, which one would hope solve the problem.
Our customers, on the other hand, know that if they need us we are there for them, and this creates loyalty or even friendships. And the same is true with the partners upstream in the supply chain. I am thinking in particular of electronics and pneumatics suppliers with some of them – Siemens and SMC in particular – we are also carrying out updating and development projects, at times using their technology centers, at times working together on our machines. Getting to the point, even in some cases, of sharing facilities, such as that of SMC worldwide assistance service, thanks to which we are able to operate at the same level as the multinationals.
And the same happens with our distributor. We consult with Simonazzi on an almost daily basis on the problems of users and on choices leading to growth, and we build a relationship of trust and collaboration with customers that opens many doors and paves new ways.
BFT Flexo in just three years of existence has become the technological benchmark in the flexographic printing inking cycle and much more. Thanks to an innovative technology and a high rate of automation, and a collaborative business philosophy and service.