The integrated group from Abruzzo synonymous with corrugated cardboard faces onto digital printing with the installation of an HP Page Wide C 500 post print machine. To open to new products and markets, with unprecedented levels of quality, flexibility and effectiveness.
For a corrugated board converter, shifting the balance from flexo technology to digital means entails not only an important investment on the financial front but also a significant change in workflows and professionalism, this in the light of a coherent project. At ICO, the introduction of an HP Page Wide C500 post press digital machine responds to ambitious goals of effectiveness and positioning, which Stefano Di Mattia, General Manager of the Abruzzo-based group, translates into: "to manage with greater flexibility complex graphics, to produce shorter batches for products with ever faster life cycles more efficiently and economically, and to enter into segments with higher added value compared to the classic transport packaging".
How to create value with digital
The HP Page Wide C500, installed at ICO in November 2019 directly prints cardboard sheets with different types of corrugates and represents a central piece of the company's renewal, which has been started to operate in a market that demands new levels of flexibility and quality: "With the C500 we print graphics that reproduce works of art with an exceptional graphic result and in half an hour from the arrival of the file; we have done  internal-external prints; we have obtained complex graphics on minimum batches with an efficiency and lead time unthinkable with traditional technology. All this with "offset quality" even on uncoated media," explains Project Manager, Michele Mastromatteo.
But things don't stop there. Today the culture of sustainability and safety dominate the market, and for ICO they represent the cornerstones of their offer and operations, underlines Giorgia Lancia, Business Development Manager, who states: "We have chosen the HP C500 also because it uses water-based inks suitable for primary food packaging with print not in direct contact with food, thus allowing us to serve the reference food, personal care and pharmaceuticals markets without restriction". Moreover, the marketer underlines, "With digital we can realize products with higher added value and reach new, geographically more distant markets. And with this technology we are able to recover efficiency, especially on cutting machines and in terms of reducing production waste".
Pandemic as accelerator
A market already oriented to change has seen, with the spread of Covid-19, a strong acceleration of e-commerce and home delivery, showing how unavoidable the digitization of processes is. "The pandemic has shown, with dramatic clarity, how unpredictable the market is and, therefore, how fundamental it is to structure a streamlined and reactive supply chain, able to handle sudden contractions and expansions on different channels and geographical areas. In this context, the digital machine and its flow acquire all their importance, allowing brands and printers to follow changes in demand with a timeliness and efficiency otherwise unthinkable", says Giorgia Lancia.
At ICO managers say the pandemic has accelerated a project that is already moving in that direction, where the inclusion of the HP PageWide C500 is driving a general change in approach to printing and work quality. "For this reason – says Mastromatteo – for us the adoption of the C500 is not a "simple" technological adaptation. It is no coincidence that it is governed by the company's R&D, and has led to the adoption of new professional profiles for both management and pre-press, as part of a more effective and efficient organizational and operational model, digitized at all levels".
[su_box title="The HP Page Wide C500" style="glass" box_color="#e6000a" radius="5″ id="menu"]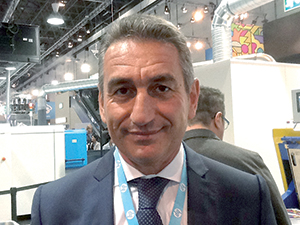 Digital features and services adopted by ICO, explained by Danilo Airaghi, PageWide Industrial Territory Account Manager HP.
Launched at drupa 2016, the HP Page Wide C500 has already seen 10 installations worldwide, 3 of which in Italy alone. Danilo Airaghi, HP PageWide Industrial Territory Account Manager, is proud to attribute the merit above all to the visionary and innovative mettle of Italian entrepreneurs. And to the unique characteristics of a machine and a service that, the manager underlines, meet all the quality, safety and sustainability requirements of an increasingly demanding user base.
The technology
Tested for decades, HP technology was created to increase the printer's margins and create new business opportunities, typically with the printing of variable data, custom graphics, RA codes and direct interaction with the consumer … The digital workflow eliminates steps and costs, is fast (you go from PDF to "go" in half an hour and print at 75 m/min), flexible (it allows you to change graphics until the last minute) and reduces time and set-up waste. "HP develops all the elements of the system in-house, including printheads and water-based inks, to control the quality of the entire process," recalls Airaghi.
The machine
The Page Wide C500 machine prints directly on cardboard already covered, with F to BC waves and a stable level of "offset" quality (1200 nozzles per inch with 6 pl drops even on uncoated substrates), using water-based inks that comply with the most stringent standards on food packaging contact. The machine, of 1.32 x 2.10 format (but soon to be increased to 2.5 sheet length), incorporates a series of hi-tec solutions such as the bonding agent (BA) that still provides the ink and increases the gamut, and the Virtual Belt for the accurate positioning of the material. The C 500 is equipped with an in-line, full table Tresu varnisher, which also allows innovative glue dot management.
The assistance
The HP pre-sales service (that are "extremely accurate and scientific", the manager points out) aims to highlight, in each context, what needs to be done to create a fluid, stable and efficient work flow "and ultimately to verify with the customer the congruence of the investment with the company's objectives and any complementary investments". In the after-sales phase, next to the team of technicians who operate while fully present, one has the virtual assistance, the entire extent of which was brought to bear and measured during the lockdown. In HP it is called Control Tower and is a center from which we monitor the machines in operation and remotely solve 90% of software and hardware problems. This structure processes big data for self-diagnostics and sends feedback to R&D useful to identify areas for improvement of the machine. The customer, in turn, can create their own personal data flow useful to monitor the machine in real time. Let's not forget that HP is a digital company…".
BREAKING NEWS – As we write, a further installation of the HP PageWide C500 press in the EMEA area, at Cartonajes Santorromán – one of Spain's largest corrugated converters – has been made official.
[/su_box]