BASF has expanded the dispersions product line for the formulation of water-based inks for printing on non-absorbent substrates for flexible packaging. These latest developments offer considerable advantages over traditional dispersions. Besides eco-efficiency and cost effectiveness, the improved performance in terms of resolubility, resistance and adhesion was confirmed in tests carried out with supply chain partners and presented at Print4All.
Governments and global organizations are taking increasingly strict measures in response to the growing demand for more sustainable products and the need to balance environmental concerns with economic and social interests. In today's packaging industry, these trends into significant drivers for growth opportunities. Conversion of solvent- to water-based printing technologies represents an important step forward in terms of sustainability, innovation and business differentiation. This article outlines the considerable progress achieved in printing with water-based inks on non-absorbent substrates. These advances are the result of the evolution of the water-based resins chemistry used in the formulation of high-performance ink systems and of improvements in printing equipment.
Water-based and solvent-based inks: the state of the art
There has been much debate in recent years on water-based printing of non-absorbent substrates for flexible packaging applications. Typical drawbacks, for example lower print speeds due to slower water evaporation or poor wetting and printability on critical substrates, have led to an overall preference for solvent-based over water-based inks. However, new developments in resin chemistry, ink formulation and printing equipment have enabled water-based inks to reach a performance standard on flexible packaging materials that approaches that of solvent-based systems. In parallel, as a result of increasing environmental awareness and the consequent tightening of regulations, especially those related to industrial emissions, several factors favor water-based inks on a global level. Their use facilitates regulatory compliance and they offer more sustainable solutions, for example for the reduction of greenhouse gas emissions [2] and the use of renewables [3] Today, similar performance standards to those of solvent-based inks can be achieved with water-based systems and operating costs can also be kept to a comparable level. Water-based systems can even save certain costs: no investment is required for solvent incineration, solvent recovery or for explosion-proof systems.
The evolution of water-based resins for film printing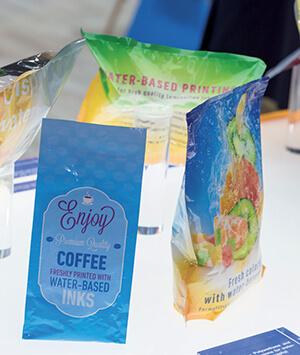 Thanks to the recent developments in resin chemistry, water-based printing on non-absorbent substrates has become a viable industrial solution. In particular, the combination of rheology-controlled (RC) acrylic emulsions with self-crosslinking technology has been a major step forward compared to traditional acrylic dispersions. RC emulsions provide outstanding resolubility and printability through the presence of alkali-soluble, low-molecular-weight acrylic resins (ASR). These resins are known to be present both at the surface of the polymer particles and in the water phase, rendering near-Newtonian rheology of the wet ink during printing. During ink drying and initial film formation, they move and form a membrane-like structure around the acrylic polymer particles. The resulting distribution of acid groups around the particles improves resolubility (see figure 2A) [4]. The crosslinking reaction enables the formation of a robust cohesive network in the dry ink layer by ensuring strong adhesion of the inks to various substrates and superior resistance properties. This crosslinking reaction has also a strong influence on the printing performance of the ink. If the crosslinking reaction occurs too fast or too early, i.e., in the wet ink film, resolubility will be reduced, whereas if crosslinking is too slow, the dried ink layer can become tacky or turn out to have poor resistance properties. To achieve clean, sharp images over long print runs, it is crucial to maintain a good balance between resolubility and resistance. Self-crosslinking technology is suitable for surface printing. In the specific case of reverse print lamination, water resistance properties are of less importance, but the conflicting chemistries of resin and (solvent-free) adhesive can impair bond strength and adhesion properties. Whereas acrylic self-crosslinking emulsions are preferred for surface printing with water- based inks, polyurethane dispersions (PUDs) have proven ideal for the formulation of water-based printing inks for reverse print lamination. PUDs are usually surfactant- free due to their stabilization mechanism. This improves adhesion properties and allows resolubility to be adjusted (Figure 2C). In addition, they combine a high solids content with low viscosity and low blocking properties. The latest step in the evolution of water-based resin chemistry is the development of hybrid systems. These combine the superior elasticity and strength of PUDs with the printability and resolubility of acrylic emulsions. Acrylic monomers polymerize in the presence of a PUD "seed" polymer, resulting in core-shell systems with unique properties (see Figure 2D).
High-performance water-based inks for flexographic printing
Entry of the new resins into the printing ink market for flexible packaging is slow. However, the high interest in PUDs and hybrid systems is a clear indication that the market has become more receptive to water-based and more sustainable solutions. The widest experience with water-based inks has been gained in flexographic printing. Recently developed resin technologies for ink formulation, together with upgraded flexographic presses, have led to the optimization of adhesion, drying and substrate wetting properties as well as improvement of the printing process. The high compatibility of water-based resins with water-based pigment pastes makes them versatile vehicles that can be incorporated in numerous flexographic ink formulas. Although the printability of flexographic inks based on self-crosslinking emulsions is usually very good, the resistance properties will depend on the combination of ink formulation and drying conditions. Regarding the equipment, newly designed air-drying systems enable water-based inks to be properly dried without any effect on printing speed. Air volume and humidity are important to ensure the removal of water from the printed substrate and therefore promote adhesion and resistance. This is particularly important when white is the first shade to be printed, since it requires good opacity. Water-based inks contain higher pigmentation loads than solvent-based inks since they are based on a different chemistry. This enables the printer to use less ink to obtain the same printing result; and since the ink film is thinner, the water can be more easily l'acevaporated. The resolubility of water-based inks has been significantly increased thanks to the new resins. Nevertheless, care must be taken during printing and cleaning of the inking systems to prevent the buildup of dry ink in the cells. To allow the use of less ink, the size and the depth of the anilox cells need to be optimized. Flexographic water-based inks can be printed on BOPP, PET and OPA. Lamination to low-density polyethylene (LDPE) and/or aluminum foil provides structures with high lamination bond strengths. These structures are highly suitable for food, snacks, candy packaging and for laminated deep-freeze, coffee and fatty products such as cheese and cold-meat packaging.
Water-based inks for gravure printing: studies and new developments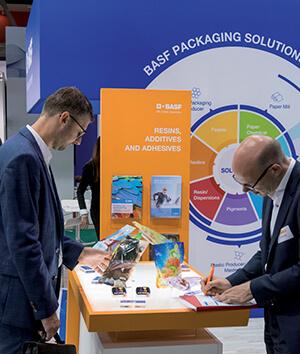 Rotogravure printing is the other main technology used for flexible packaging applications. Experience with water-based printing for gravure applications is still quite limited. For this reason, a consortium comprising a raw material supplier (BASF), a printing machine manufacturer (Uteco Converting Spa), an ink manufacturer (Flint Group) and a cylinder maker (Inci-Flex srl) has recently been set up with the aim of exploring in greater detail rotogravure printing with water-based inks for flexible packaging applications. The collaboration partners have been focusing on the development of PUDs and self-crosslinking acrylic resins from BASF and the study involved both surface and reverse lamination printing. Water-based CMYK lamination ink systems developed by Flint Group were tested on the latest Uteco gravure press: a 10-color rotogravure press suitable for short runs and equipped with innovative drying systems. Good printing results were obtained by adjusting the printing machine for water-based inks: this involved optimization of the cylinder engraving by In- ci-Flex, regulation of the drying conditions, and use of the electrostatic assist unit. Lamination inks were printed on PET film at a printing speed of up to 250 m/min with good adhesion, printing quality and ink processability. Surface printing with water-based rotogravure inks on primary packaging of white oriented polypropylene (OPP) was demonstrated at the latest Print4All exhibition in Milan (May 29 – June 1, 2018). A 7-color print was followed by a protective clear varnish. Adhesion, resistance properties and gloss were all good. The resistance properties of the surface inks were indeed found to be so good that the protective varnish was deemed unnecessary: even the samples without varnish proved to have good final resistance properties. Following the encouraging results of the preliminary tests, the next steps of the study will involve the optimization of the printing process by fine-tuning the ink application and the ink drying process ‒ in other words, achieving the right balance between the resolubility and the resistance properties of the inks.
Conclusions
The new resin product line developed specifically for the formulation of water-based inks for printing on non-absorbent substrates for flexible packaging is a great improvement over more traditional acrylic dispersions. Very high resolubility in combination with excellent resistance properties and adhesion will allow printing water-based inks on a broad range of substrates for food packaging applications. A recent eco-efficiency analysis has shown that water-based inks based on the new water-based resins reduce carbon footprint and the environmental impact of packaging, at comparable performance and cost to those of solvent-based inks [2].
by Martin Bek (Technical Marketing Manager Printing & Packaging EMEA, BASF Nederland B.V.), Tjalle Hijlkema (Commercial Marketing Manager Printing & Packaging EMEA, BASF Nederland B.V.), Sonia Morselli (Account Manager for Printing & Packaging, BASF Italia SpA)
Notes
Packaging Thought Leader Survey Results – The world of packaging in 2026, HAVI Global Solutions.
Lighten your carbon footprint! Water-based technologies for flexible packaging – BASF publication 2017.
Joncryl Biomass Balance – Resins derived from renewable raw materials for the Printing & Packaging industry – BASF publication 2017.
van den Brink, A. van Meer, Pitture e Vernici – Europe, 2005, Vol. 81, Issue 16, 63-70.