ICE Europe, the world's leading exhibition for the conversion of flexible, web-based materials, such as paper, film, foil and nonwovens, is the biennial meeting point for the international converting industry. The 11th edition will take place from 12-14 March 2019 at the Munich Trade Fair Centre in Germany. ICE is the "Siamese sister" of CCE International and will be held in the same place and in the same days.  CCE is focusses on manufacturing and converting corrugated and cartonboard. It has firmly established itself as a specialised meeting point for this industry. Converting magazine, as media partner, will be distributed to visitors of both the exhibitions. Here you can read a first selection of infos concerning products and solutions on show.
[su_box title="MENU" box_color="#e6000a" radius="5″]
[su_row][su_column size="1/2″ center="no" class=""]
[su_expand height="30″ link_color="#fd0014″]
ICE Europe 2019
[su_list icon="icon: arrow-circle-right" icon_color="#e6000a"]
[/su_list]
[/su_expand]
[/su_column]
[su_column size="1/2″ center="no" class=""]
[su_expand height="30″ link_color="#fd0014″]
CCE International 2019
[su_list icon="icon: arrow-circle-right" icon_color="#e6000a"]
[/su_list]
[/su_expand]
[/su_column][/su_row]
[/su_box]
AVT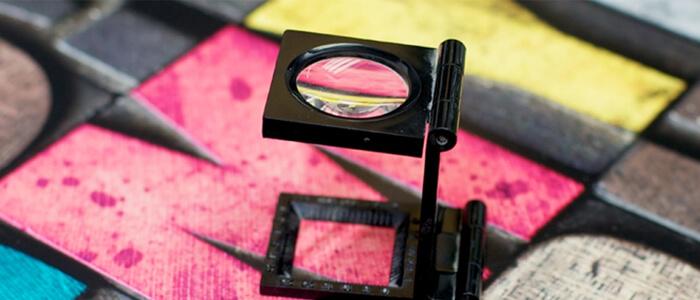 In Hall A5, stand 1336, AVT will showcase its wide range of inspection and automation solutions including streamlining quality process workflows with sister companies Esko and X-Rite.
Significantly decreasing the dependency on operator skills to achieve high quality, the new AutoSet solution offers full connectivity between pre-press and inspection, by connecting Esko's automation engine to AVT's 100% inspection platforms. The combined solution enhances the overall print environment by automating job setup and eliminating setup time and the need for manual intervention on any sized print run.
Automation and efficiency solutions such as AutoSet, Offline Setup and ProMIS that shorten and streamline inspection setup and quality standards will highlight how printers and converters can leverage inspection performance, avoid critical mistakes, minimise re-prints and save time and material.
Welcome to the world of 100% Turbo HD Quality Assurance!
AVT "Turbo HD" platform, is the newest generation in 100% inspection. It introduces the highest inspection resolution in the industry, to meet any production speed and quality need.
Designed for press and post-press applications, it visually inspects a range of printed materials, including transparent, flexible, or reflective substrates, automatically and efficiently detecting imperfections in real-time. It can be easily installed on any press to achieve online quality assurance and process control and be integrated into a rewinder or finishing equipment to create a combined Automatic Inspection Station.
Showcased for the first time – AVT will live demo a new module for classification of defects by type, continuous or random, to enable the operator to have an easier control of print quality. Other live demos will include efficient Job verification to PDF, DeltaE Color Monitoring and the debut of the AVT-Esko AutoSet mentioned above.
Increased Efficiency and Productivity
AVT's Workflow Link offers an essential connection between printing and finishing for efficient and automatic removal of defective material downstream. It serves as a bridge from printing to finishing, increasing line efficiency and productivity while stopping only for designated defects. Slitter rewinders can run at top speeds and, by selecting the extraction of only critical defects, rewinder stops can be reduced by up to 50%, supporting any production workflow, including printing, lamination, slitting, doctoring and even bagging machines.
"This is a great opportunity to demonstrate how our solutions deliver end to end workflow, ensuring that packaging operations maintain consistent, high print quality, now less dependent on operator skills", says Guy Yogev, AVT's Packaging Marketing Director. "We focus on continuous innovation and improvements to meet the growing market needs, and being part of the Danaher PID team, enables us to create new and exciting connected workflow together with our sister companies Esko and X-Rite, bringing added value to the packaging market."
BOBST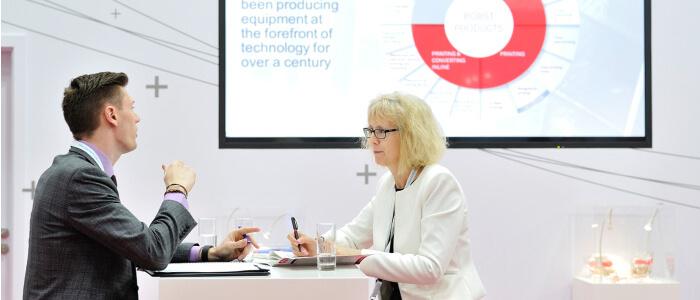 BOBST specialists will be on hand at the BOBST stand #1634 in Hall A5 at ICE Europe 2019 to discuss the latest technology developments aimed at supporting the growing industry's need for sustainability and pledge towards recyclability of packaging materials.
The production and converting of high barrier film is one of the most rapidly evolving and growing segments of the converting industry. BOBST has been successful in rising to the challenge and contributing to the industry shared objectives: finding ways to protect food products without additives and preservatives, ensuring long shelf life, using materials that can be recyclable and all in an economically viable way.
"Our AlOx Integrated Conversion Solution was the very first to make AlOx production and processing a viable industrial solution. It paved the way for the use of high performance coatings to produce clear food packaging with high barrier properties, whilst being fully recyclable", explains Detlef Merklinger, head of the Coating Product Line at BOBST Business Unit Web-fed, "and we have continued progressing by further leveraging on our Group's multidisciplinary competences as a complete chain supplier."
The show will also be the place to present and discuss coating solutions in other areas of BOBST expertise, such as the lacquering of aluminium, extrusion coating and laminating solutions for paper and film substrates.
World-class machines deserve world-class services. BOBST Services provide converters and printers with solutions that help them to optimize productivity and quality, while reducing downtime and environmental impact.  Visitors to the BOBST stand will learn about the extensive range of equipment service packages and connectivity solutions to show how to best increase performance of BOBST machines.
EUROMAC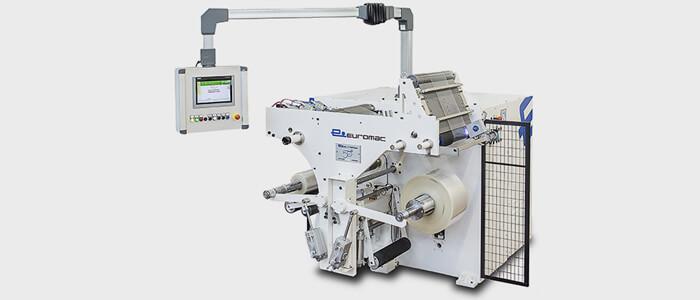 Euromac Costruzioni Meccaniche s.r.l., was founded in 1968 in Villanova Monferrato and is one of world's leading producers of slitters rewinders for plastic films, laminates, paper, aluminium foil and other materials for food and non-food flexible packaging.
During the ICE exhibition, Euromac will have an interactive demonstration of all models and showcases the compact mono-block designed CB-800 doctor rewinder, which is a bi-directional running machine fully developed to reduce waste and offer converters a solution that could increase their overall productivity. Assisted by a Closed-Loop tension control, production speed of up to 600 m/min and a splicing table with individual web clamping facility, the CB-800 features top range roll recovering functionality. A slitting-unit for edge trim could be one of the many optional possibilities. Also various Inspection systems from stroboscope to 100% quality control can be installed as well as particular applications with laser scoring and hot-melt equipment.
FERRARINI & BENELLI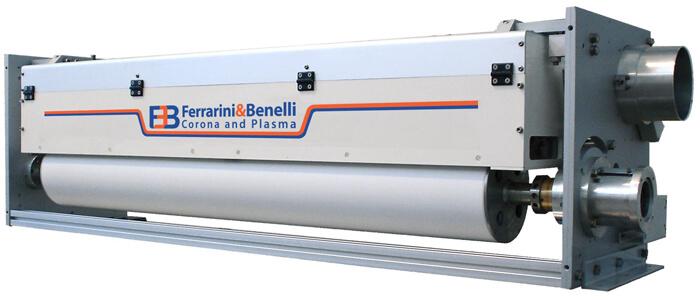 Ferrarini & Benelli will showcase at the 11th edition of ICE Europe in Munich (March, 12-14) the biennial show dedicated to converting and flexible packaging.
About 450 exhibitors are attending at ICE. The demand for innovative coating and finishing processes and for high quality and innovative solutions is growing. As an answer to this demand in the converting world, Ferrarini & Benelli proposes the Polimetal corona treatment – which provides excellent surface treatment on all types of materials – and the brand new AT narrow web corona treatment station for adhesive tapes or plastic films.
Polimetal
Universal corona treatment unit available in single-sided and double-sided versions. It is usable with all types of materials, conductive and non-conductives: plastic and metallised films, paper and aluminium foils and also laminates.  It is equipped with special ceramic electrodes and rollers. Mainly used in Flexographic and Rotogravure Printing, Laminating and Coating lines and in all Converting applications. Models differ in the number of electrodes and roller diameters and line speed (up to 600 m/min). All models are available with integrated motorization, extended shaft for drive, pressure roller to avoid back-side treatment effect, idle rollers and structures for mounting.
AT
Treatment station to be mounted on printing lines for adhesive tape or for narrow web plastic materials. The AT station guarantees good bonding of inks and adhesives. Treating width: from 100 mm up to 260 mm. Aluminium discharge roller covered with silicone sleeve.
GAMA  INTERNATIONAL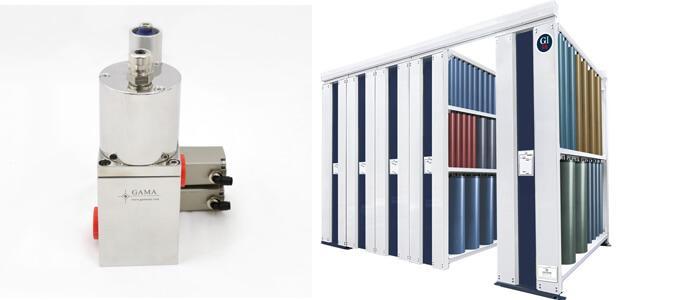 GAMA International will be attending ICE Europe, from March 12 to 14 in Munich, Germany – at Hall A5, Stand 1524 – to introduce its quality control systems for inks and adhesives as well as logistics solutions.
GAMA is a worldwide specialist in viscometers for any printing ink-liquid and surface. At ICE GAMA International will focus on quality control for flexo process, introducing G30 – a system for viscosity control on solvent adhesives, varnishes and lacquers for laminator process – and the new G32 for viscosity and pH control and correction of pH water-based adhesives, varnishes and lacquers. The main feature – in these products as well as in all GAMA systems – is the ability of automatically guaranteeing the correct quality of the liquid during flexographic printing, in order to obtain the highest quality of the printed material at any printing speed.
Logistics is the second area of solutions where GAMA International is successfully present in the market, in particular the sleeve storage systems. At ICE GAMA International introduces three kind of GI sleeve storage systems: the manual storage system, the semi-automatic and the full automatic system. These systems can solve the storage problem for materials such as cylinders, sleeves, film and paper rolls, which need optimal conditions in order to avoid distortion and following impossibility to use materials.
"Our commitment is to find the more suitable solution for the customer", comments Sante Conselvan, Commercial Director of GAMA International. "Both for viscometers and for logistic solutions, we are able to supply a personalized solution. We listen to the customer need and work hard to prepare a tailor-made solution."
H.B. FULLER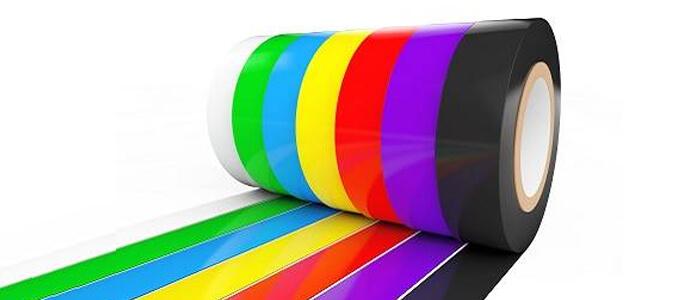 H.B. Fuller will showcase two exciting hot melt, pressure sensitive adhesive (PSA) products at ICE Europe 2019. Visit Booth 1650, Hall 5, and learn more about the company's scientist-designed technology.  
The tapes industry can be very competitive. Considering the wide range of possible tape applications, growth in this market depends on cross-sector usage in vastly different industries, such as construction, automotive and others. And with just a few large providers, the market consists mainly of fiercely competitive small- and medium-sized businesses.  When selecting the right adhesive supplier, today's tape manufacturers require a partner that can keep pace in a constantly changing world and provide solutions on all fronts – from raw material selection to supply chain management.
H.B. Fuller works closely with customers to continually improve tape applications that meet the requirements of consumer and durable goods manufacturers wherever they do business. The company also leverages its global reach to advance locally-driven innovations in solvent-based, hot melt, and water-based adhesive technologies.  At this year's ICE Europe in Munich, H.B. Fuller will showcase its adhesive products for the tapes industry with a particular focus on two, high-performance solutions: Lunamelt™ HL 2838 and Swift®melt 2033.
To support customers' efforts to lower their total cost of ownership, H.B. Fuller introduced Lunamelt™ HL 2838, a tape application designed primarily for carton sealing and easy-opening tear tapes for e-commerce shipment boxes. This product is a great solution for a multitude of applications, testing well for temperature resistance and adhesion to PE foam.
Swift®melt 2033 is a high-performance adhesive used by tape manufacturers on double-sided applications. It has been formulated with good shear resistance and high temperature resistance of up to 95°C, which makes it suitable for automotive interior applications that often stipulate 80°C  temperature tolerance. This adhesive technology combines strong adhesion to both polar and nonpolar substrates with high cohesion, and is one of the highest grab products in H.B. Fuller's range of adhesives for the tapes market.
LAEM SYSTEM / GOEBEL IMS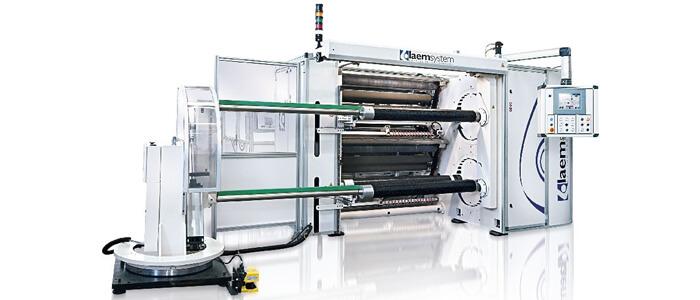 In May 2018, IMS TECHNOLOGIES S.p.A., parent group of the globally renowned brand GOEBEL IMS, and Laem System announced their strategic partnership. The goal of this synergy is to present to the market an expanded machine range for primary, secondary and converting industries as well as slitting and winding solutions. Nearly a year later both companies jointly present their comprehensive portfolio in hall 6, booth 344 at ICE Europe.  
At the booth of Laem System and GOEBEL IMS, interested visitors can learn more about attractive package solutions for the converting of paper, alufoil, film and flexible packaging materials. A special highlight is the exhibited machine RB 4 of Laem System. This center-driven slitter rewinder is particularly suitable for film manufacturers and converters producing finished reels with web widths starting at 40 mm. The RB 4 is designed for unwinding diameters of up to 1,000 mm and a maximum rewinding diameter of 600 mm. At production speeds of up to 600 m/min, the slitter rewinder processes mother rolls with up to 1,800 kg and web widths between 1,200 mm and 1,600 mm. Short cycle downtimes and highest productivity are guaranteed with this dual shaft machine thanks to its systems for fast loading and unloading. Depending on customer requirements, the RB 4 is equipped with one motor driving both rewinding shafts or two rewinding motors for independent control of upper and lower shafts. The operator-friendly control panel of the center-driven slitter rewinder RB 4 can be experienced firsthand at the booth.
As strategic partner of Laem System, GOEBEL IMS will be highlighting its newest slitting and winding machines XTRASLIT 2 and RAPID D1.  The alliance of the two major machine manufacturers Laem System and GOEBEL IMS has internationally generated great interest. Customers value the expanded product range along the complete value chain as well as the transfer of both companies' longtime know-how into holistic, customized slitting and winding solutions. Numerous customer inquiries and first, jointly executed projects let both partners draw a positive conclusion on their strategic alliance.
MARTIN AUTOMATIC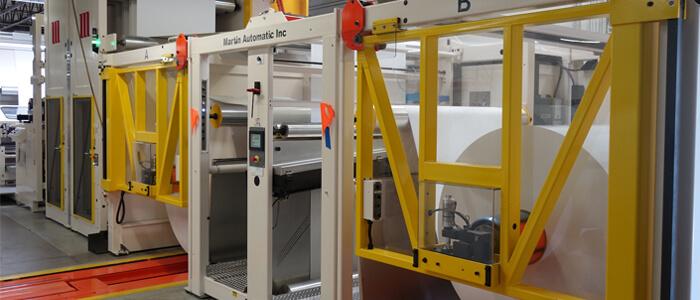 Leading American manufacturer of high-performance splicing, tension control and rewinding systems, Martin Automatic, will be exhibiting at ICE-Europe for the first time in 2019.
Speaking for the company, European Sales Manager Bernd Schopferer stated: "We are delighted to be making our debut at ICE because we see the exhibition as a unique opportunity to showcase our technology to the important and growing converting sector of the market and share our knowhow and expertise in many diverse markets."
Visitors to Stand 1846 will be able to discuss Martin's advanced web transport technologies for challenging applications, and the company's solutions for nonstop unwinding and rewinding using a variety of splicing techniques suited to different substrates and materials.  These include adhesive tape, hotmelt glue, and heat seal, combined with different web cutting mechanisms.
Martin Automatic technology provides non-stop solutions on webs from 20mm to 4000mm wide and is capable of handling all types of material that is supplied on reels.  Designed to be practical, and reliable, Martin equipment is easy to use and easy to maintain for long-term performance and profitability.
RE
Double fair for Re SpA in Munich. The Bussero based company produces a wide range of advanced components for managing movement and materials in the converting industry, and has a stand at both the next ICE Europe (hall A5, stand 1236) and the adjoining CCE International (hall B6, stand 714).
At the first exhibition, focused on the converting and processing of flexible packaging, Re will be presenting its wide range of web guiding systems, actuators and sensors for material alignment, in addition to the new friction shafts for the management and a precise control of multiple and independent reels. It will also be showing its pneumatic and electromagnetic brakes, load cells and voltage regulators for laminate tension control, expandable shafts, safety supports and pneumo- mechanical heads for reel management.
At the flat and corrugated cardboard fair, Re will in turn be launching the innovative RotoSpring mechanical core chuck, designed to solve the problems of expelling the coil core and to minimizing the waste of paper wrapped around the core. Moreover two ReCorr and a ReTens system, which solve the problems of paper alignment and tension, reducing the final trimming and hence the waste will be installed on a demo machine. Lastly, at CCE Re will be presenting the new HP3 cover for Combiflex pneumatic brakes, featuring a particularly effective and efficient ventilation system.
SEI LASER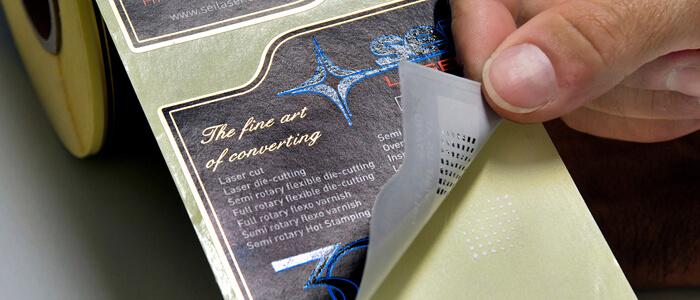 The Italian firm will be present at ICE Europe (Munich 12/14 March 2019 – Hall A5 stand 1558) with a stand where visitors can discover the complete range of laser systems for the Converting market, specifically designed for processing and converting paper, film, foil and flexible packaging, both in roll and sheet.
Labelmaster
Labelmaster is the most complete and professional modular "roll to roll" laser system of digital die-cutting and finishing. Labelmaster is the perfect solution for the production of self-adhesive and non-adhesive labels in all sectors: wine, food & beverage, personal care and clean products, beauty, promotional items, and many others. Labelmaster has unique technical characteristics. Available from 1 to 4 laser heads, it reaches a maximum speed of 100 meters per minute which is costant thanks to a "traction control system" that works in synergy with the control unit of the material shift, guaranteeing high quality of the working process. Labelmaster is the first and only modular system that can be customized upon purchase or afterwards with a series of optional upgrades. It has several finishing options: laser die-cutting/coding/micro-perforation, semi rotary die-cutting, full rotary flexo varnishing, semi rotary flexo varnishing/printing, semi rotary Hot Stamping, overlamination, self-wond/liner lamination, Label Shifting, detecting table, sheeting, slitting. Labelmaster is the laser system specifically developed to meet the demands of converters and label manufacturers can benefit from an intelligent system that will increase productivity and therefore their profits: in an increasingly competitive market, the barcode reader allows you to change the work "on the fly", thus guaranteeing high productivity
Packmaster Line
SEI Laser will also present laser solutions for processing membrane switches, industrial self-adhesive tapes, protective films or flexible packaging. Packmaster Line is the line of innovative laser systems that meet the needs of converters and meet all the latest innovations in the flexible packaging market: easy opening, windows, micro / macro-perforation, to guarantee breathability and the possibility of microwaves cooking are just some of the laser applications specifically developed for this market. A cutting-edge line of laser systems that can be integrated into any existing production line and can process different kind of materials such as PE, PET, PP, nylon, PTFE, laminated film, paper, always at high productivity.
Every SEI Laser system can be integrated into automated digital control production processes and it is in compliance with the Industry 4.0 certification.
ROBATECH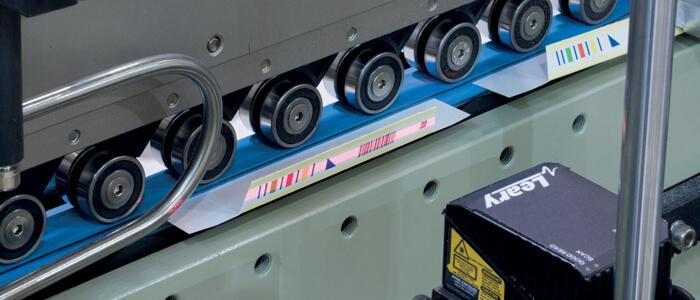 Fully integrated and perfectly coordinated hot melt adhesive, cold glue, and quality assurance solutions. Robatech is going to present complete and cutting-edge application and monitoring solutions for the folding carton production together W.H. Leary, and for the shipping carton production together with ENPRO, from March 12 to 14, 2019, at CCE International in Munich.
Folding Carton Quality – All Requirements Met
Under the motto "Everything from a Single Source," Robatech and W. H. Leary offer solutions for the folding carton production. Products for bonding, tamper evidence, and quality assurance are exhibited at the CCE booth. Thus, Leary products can scan, whether quality features such as barcodes or correct adhesive application are met on packaging, and remove defective packaging from the production line. Leary's Laser 1D Code Reader ensures that no mixed goods enter shipping. By default, flaps are simply glued with dispersion adhesive. However, if a tamper evidence should be attached to the packaging, then the flaps are glued with hot melt adhesive in addition to the dispersion adhesive. This combined bonding is reliably implemented by our cold glue head SEMPRE and our hot melt adhesive head SX Diamond. In addition to the SX Diamond, the SpeedStar Diamond – a unique application head in the industry – is also used for hot melt adhesive bonding. The SpeedStar Diamond stands for extremely fast, precise and very thin dot or bead application – ideal for the attachment of package inserts. In combination with Robatech's Concept series melters, especially the tankless Concept Stream, Robatech offers a high-performance solution.
New Cold Glue Applicator Heads – Compact and Fast
A new generation of Robatech cold glue application heads is ready. SEMPRE – "Speed, Electro, Mini, Precise" – names the outstanding features of this product series: compact application heads for fast, precise and electronically controlled adhesive application. SEMPRE replaces the ECX Platinum series for the contact-free application of low-viscosity dispersion adhesives.
Silicone Release Liners – Fast, Strong, Reliable
Envelopes and packaging showcase companies, they leave an impression. It is all the more important that silicone release liners are precisely positioned and close well. Robatech is now teaming up with ENPRO to present an efficient and cost-saving complete solution for the application of silicone release liners at CCE. The solution consists of the Robatech Concept or JumboFlex melter, an FK IT application head for surface application of pressure-sensitive adhesive and the SPA silicone paper applicator from ENPRO. The complete solution opens up an impressive savings potential. Compared to the application of expensive double-sided adhesive strips, the entire application process is much faster. In addition, the direct application of pressure-sensitive adhesive to the packaging material is not only cost-effective but also saves adhesive. The application amount can be set individually depending on the surface and the expected use of the packaging. This way, the same adhesive can be used for various packaging materials. All in all, the new complete solution guarantees high-quality silicone release liners with exceptionally precise adhesive tear-off even at very high production speeds of up to 200 m/min, millimeter-precise conveyance and placement of the silicone strip material onto the adhesive application, as well as reliability and cost optimization.
TRESU GROUP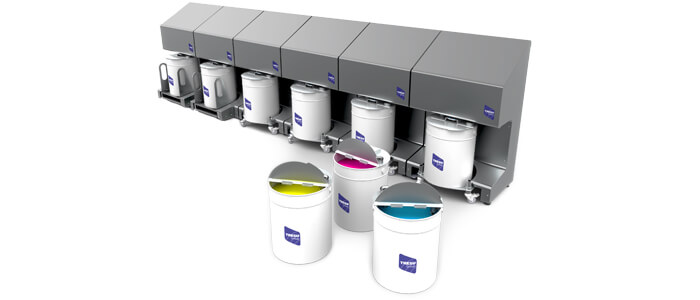 TRESU's flexo ancillary systems bring quality assurance with low waste, and optimised uptime for corrugated print
At CCE International 2019, TRESU Group presents complete ancillary solutions for automatically regulating ink circulation on corrugated flexo printing presses (Stand B6, – 650, Munich Trade Fair Centre, Germany, 12-14 March).  The company's ancillary programme comprises chamber doctor blades up to 6000mm wide, together with ink supply systems that provide a fully enclosed means of supplying ink and coating media to the press. They are designed for integration with new and existing presses, they optimise quality consistency, output and press uptime, while dramatically reducing waste, manual input requirements and emissions.
TRESU's chamber doctor blades, in light-weight corrosion-resistant carbon-fibre or ceramic constructions, provide clean, uniform printing and efficient drying, at faster speeds. A key feature enabling their high performance is TRESU's "Pressure Control Technology." Ink pressure is automatically maintained at optimum levels in the chamber by a long-life rubber seal system that forms an airtight enclosure, eliminating micro-foaming and leakage. With ink at the desired pressure, a liquid barrier forms between the rotating anilox rolls and the chamber, preventing air from entering the cells during production. The chamber doctor blades also feature fast, safe blade exchange as standard, with pneumatic or eccentric clamping systems.
A highlight of the stand for corrugated applications will be the TRESU MaxiPrint Concept, in 1600mm to 6000mm widths, is a carbon fibre chamber doctor blade with integrated system for fast, efficient water cleaning of the chamber and anilox roll. The low pressure cleaning mechanism ensures minimal water loss during cleaning.
The F10 iCon ink supply system regulates ink flow, pressure and viscosity, providing constant, accurate ink density on the printed substrate without air contamination. It achieves thorough automatic cleaning, with a complete ink-change cycle, in 5 to 15 minutes, returning a very large proportion of unused ink to the bucket.
Henrik Kristensen, vice-president, TRESU Ancillary, comments: "The corrugated industry faces strong challenges to drive waste out of production process, in the face of shorter production runs and higher quality demands, and ink supply plays an enormous role in printing performance. TRESU ancillary solutions have proved successful in keeping flexo printers productive and competitive, delivering significant savings through minimising manual input, reduced ink waste and increased production speeds. TRESU retrofitting programmes, managed by experienced engineers, can bring existing presses – whether line, common-impression or stack formation – to the highest standards of performance for a relatively fast return on investment".
TRESU also builds complete flexographic printing and converting machines, for paperboard packaging markets, as well as dedicated printing and coating units for integration with industrial manufacturing lines. TRESU is also exhibiting at the International Converting Exhibition 2019 (Hall A5, Stand 1014), which coincides with CCE International at the same venue. At ICE 2019, TRESU will be exhibiting specialist flexo units featuring between one and four printing stations, that can be bespoke-designed for integration into production processes for diverse specialist applications. These include, among others: household chemicals, feminine hygiene products, wallpapers, direct mail publishing, cigarettes and food.
VALCO MELTON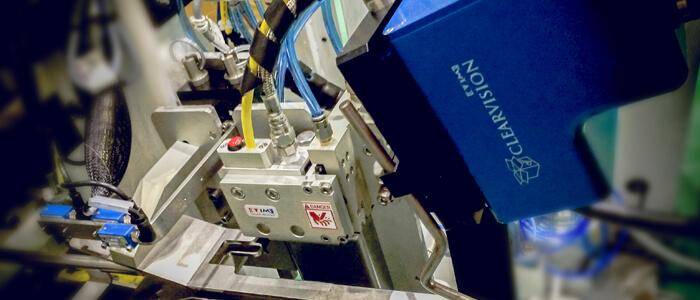 Valco Melton presents its range of solutions for the Corrugated and folding Carton industries and Dave Swedes, Valco Melton's Vice-President of Engineering and Quality Assurance specialist, explains how vision inspection software help manufacture defect-free boxes
Quality Assurance – Making Quality Visible
Guaranteeing a "zero defect" product delivery to customers is the main challenge for corrugated and folding carton manufacturers right now. Monitoring is key to ensure that no faulty product has been oversighted. With more than 64 years of experience, ClearVision, the quality assurance brand of Valco Melton, develops camera-based systems to detect and identify defective gluing (in hot melt or cold glue patterns), folding, barcodes, print registration, corrugator scores, registration marks, joint gaps and braille dots. Thanks to the BoxChek7 inspection software, it is now possible to easily control up to 6 cameras from one single screen. Dave Swedes, Vice-President Engineering & Manufacturing of Valco Melton, points out that "no other partner offers the array of options to tailor vision-based quality systems to the issues you are experiencing on your lines, with equipment that feels as familiar and user-friendly as your mobile phone". Technical features of BoxChek7 systems for corrugated and folding carton applications will be presented by Dave Swedes at the CCE Open Seminar, March, Thursday 14th at 11:20.
Adhesive Dispensing – 3NCR Reversible Glue Applicator
Giving answer to corrugated manufacturers demands of versatile and simple glue solutions that could quickly adapt to production changes and saves having glue stations on both sides of the machine. The non-contact glue station 3NCR can be easily switched to apply top-down or bottom-up depending on the production requirements. The key advantage of 3NCR lies in its tool-less reversing mechanism. By simply pulling on the spring pin, internal clamps are released and allow the entire valve and tip-sealer mechanism to be reversed.