"All you need is RSC": on June 15 Durst will share original ideas on the switch from flexo to digital printing of the Estonian label printer LabelPrint OÜ and All4Labels Packaging Group. Sign up here.
Durst, manufacturer of innovative digital printing systems and software solutions, has announced that LabelPrint OÜ and All4Labels Packaging Group have successfully completed beta testing of its new single-pass UV inkjet digital Tau RSCi Label Press. The investment from the label-making company from Tallinn, Estonia, is a key part of a strategy to move medium and long run flexo jobs to digital UV inkjet printing.
In a continuing trustful relationship, LabelPrint OÜ and All4Labels Packaging Group have provided extremely valuable inputs to Durst that have now been incorporated into the Tau RSCi platform, which is now starting full commercial production. Results of the extensive collaboration will be shared at an online event, headlined "All you need is RSC", on June 15 at 10.00 and 17.00 CEST. The 40-minute presentation from the Durst headquarters in Brixen, Bressanone, Italy, will cover unique insights into latest label developments and the new extended Tau RSC platform.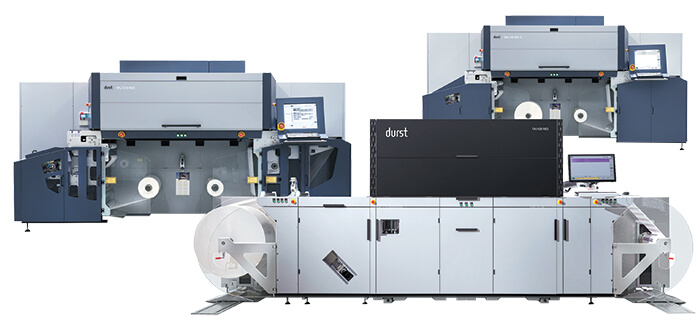 Print easier and faster
Sten Sarap, owner of LabelPrint OÜ, said: "We are very happy with the opportunities and positive after the installation, particularly with the many further improvements to the software.
The new Tau RSCi offers us enormous potential and we see lots of possibilities in digital production, which I see as the future. Digital production on the RSCi is constant, running in three shifts. The new machine gives us the ability to print far more in a short lead time so we are moving more jobs from flexo to digital because we can print extremely fast at unbelievably high quality.
Another welcome factor has been the ease of use of the machine. Our operators were fully trained within two weeks of the Tau RSCi arriving when it takes far longer to train somebody for flexo printing, sometimes up to a year."
Price and personalization conquer labeling
Thomas Macina, Durst Group's Global Sales Manager Label & Flexbile Packaging, said: "Our grateful thanks to LabelPrint OÜ and All4Labels Packaging Group. This is a really active partnership, characterized by a close and productive approach in this beta testing. "With 10 Tau RSCi's already installed across the world, we are confident of success as we start full commercial production. Label converters who are curious and want to see the extended portfolio and latest developments are invited to our must-watch online event – All you need is RSC – on 15 June.
He added: "Labels continues to be a significant growth business for Durst, not least because increasing numbers of converters such as LabelPrint OÜ are recognizing the benefits of transferring more volume from flexo to our digital platform to offer competitive prices to meet their own customers' bespoke requirements and needs."
Durst. Advanced Digital Printing and Production Technology
Durst is a global manufacturer of advanced digital printing and production technologies. In the active areas, Durst is a preferred partner for the transformation and digitalization of industrial production processes. Durst is a family company with an 80-year history in which innovative strength, customer orientation, sustainability and quality are the central values. More information about the Durst Group can be found on www.durst-group.com.