This is the second time Polysack "Pack N Cycle" film wins this prestigious award. A great example of partnership between Israel-based packaging films manufacturer and Bulgaria-based packaging system solutions manufacturer.
Polysack is happy to announce the winning of "Prize Pack 2022" award, together with INTRAMA, for Recyclable vacuum packaging for food products. This award is given each year by the Food Processing Industry Magazine to companies that produce a ground-breaking packaging design that is recyclable. "Thanks to its recyclability, it illustrates a balance achieved between the protection of the food product and the environment", stated the award committee announcement.
Polysack is a well-known film manufacturer based in Israel. In recent years, we have become one of the leading companies in MDO (machine direction orientation), mono material, fully recyclable PE films. INTRAMA is a Bulgarian manufacturer that has environment protection as one of its main core values. Together the two companies encourage the shift to recyclable flexible packaging solution which promotes sustainability and circular economy.
The award-winning packaging is a combination of two films: thermoformable bottom film and flexible lidding film. The bottom web is a 9-layer co-extruded transparent film with a gauge of 140 microns and a top web is an 11-layer laminated film with a total thickness of 60 microns. This top web is made of two laminated films: internal layer is produced by INTRAMA, and the external layer is Polysack's 25-microns thick Pack N Cycle LC EL MDO film.
"The package we won the prize with is for thermoforming lines", explains Stoyan Ivanov, marketing specialist in INTRAMA. "The bottom film has excellent mechanical properties and transparency. It has superb machinability with thermoforming lines manufactured by INTRAMA as well as with other packaging equipment manufacturers. The top lidding film has excellent sealing, optical and mechanical properties and forms a high-quality packaging that preserves the shape, color and freshness of the product, for long shelf life."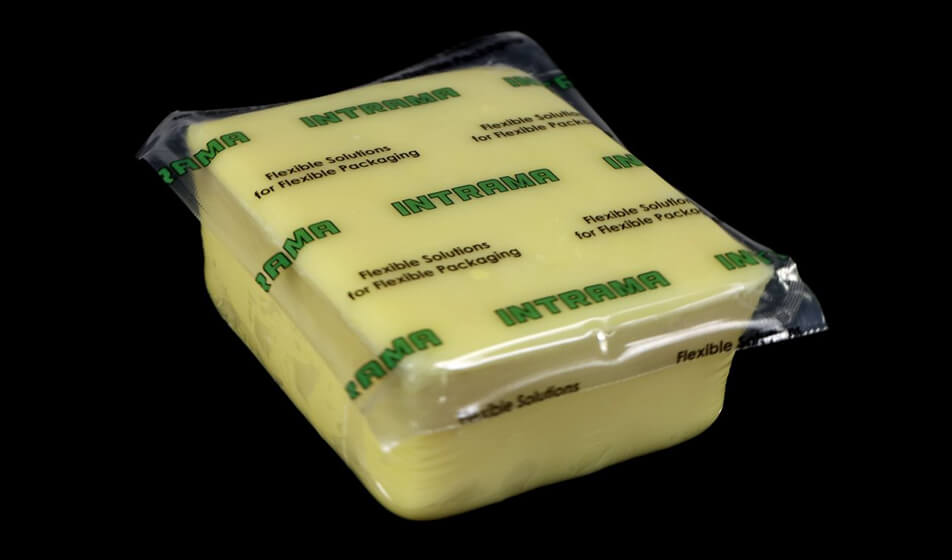 The package is with medium gas barrier, and suitable for meat, dairy, fish and sea food as well as non-food products. It is manufactured in accordance with BRCGS class "AA", ISO 9001: 2015, ISO 22000: 2018. The package is certified by "Institute cyclos – HTP" – Germany as recyclable with recyclability class "AA" 90% – 95% in the LDPE waste stream.
"The recyclable bottoms film undergoes mechanical testing in our laboratory in order to monitor its strength and stretching properties", emphasizes Stoyan. "This way we ensure its quality and even distribution of the individual polymers in its composition when thermoformed."
"As Polysack's representative, I was thrilled that we won this important award", says Roumen Sarafski, regional sales agent. "Pack N Cycle EL film is the elastic version of Polysack's standard Pack N Cycle films based only on MOPE (mono oriented PE). It can be easily recycled in the polyolefin recycling stream around the globe. It promotes sustainability and minimizes the usage of fossil based raw materials."
Frank Ullrich, managing director at INTRAMA Group adds: "As the biggest producer of multi-layer barrier packaging in Bulgaria and as a responsible company with an active position on environment protection, we have always been striving to find the optimal balance between preventing food waste and reducing the ecological footprint of the packaging process. The partnership with Polysack has enabled us to achieve our goal: to develop a solution that is designed for recycling, with no compromission of the packed product shelf life".
Courtesy of PlasticTime magazine.