Labelexpo is approaching: Here is a small preview of the new features on show. Converting magazine will also be distributed at the Brussels fair.
[su_box title="Choose what you want to read" style="glass" box_color="#e6000a" radius="5″][su_list icon="icon: globe" icon_color="#ff0907″]
[/su_list][/su_box]
BOBST and Mouvent to unveil a pioneering world premiere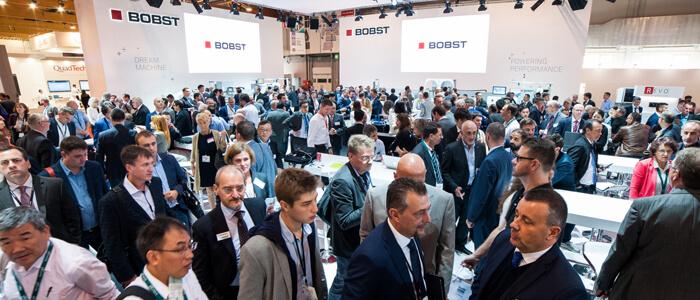 BOBST, along with its digital printing competence center Mouvent, are set to reveal a portfolio of world-leading innovations at the world's largest label event, Labelexpo Europe. Visitors at the event, which takes place 24 to 27 September 2019 in Brussels, will be able to see four complete digitalized production processes across a digital native press, equipped with water-based inks, a new world premiere UV/Flexo hybrid printing machine and a DigiFlexo press.
"We have recently revealed several truly ground-breaking innovations that will set new standards helping converters and brand owners improve time-to-market, guarantee color consistency and food packaging safety," said Federico D'Annunzio, BOBST Program Manager Hybrid Printing.  "It's really exciting to bring these latest innovations together in one place, so attendees will be able to see for themselves the difference these innovations make, and the impact they could have on their own businesses."
Latest innovations pave way for world premiere
The latest innovations include Ink-on-Demand (IoD), Highly Automated Liquid (HAL) and DigiColor – game-changing solutions that will set a new course for the industry's future.
The IoD inking system replaces conventional inking reservoirs with a single rubber pipe that dispenses 30 grams of ink to the print unit. The system eliminates ink trays and chambered doctor blades and performs fully automated washing of the print unit in less than one minute.
To complement the IoD system, HAL is an off-line ink mixing station for producing Pantone colors from 14 basic inks, and contains only one pump performing a pipette-style action to measure out the very small amounts of colour needed.
DigiColor is the first ever inline "closed loop" color system that enables digital color adjustment to the target Delta E values during printing, at any speed, on any substrate, with any operator. It is a major step towards full color digitization.
These innovations have paved the way for a new hybrid Flexo with "Mouvent™ Digital Technology Inside", which is the best combination of digital and DigiFlexo printing, and will be unveiled for the first time at Labelexpo.  The hybrid is associated with total flexibility in high added value labels, with extremely short job setup and fast return on investment. It will be the most digitally automated press in the labels market, with the highest print quality and productivity. It opens a new era in the production of self-adhesive labels with totally new standards of productivity and profitability.
Other machines on display include:
M5 IoD/DigiColor, which transforms flexo printing into a fully digitized process. Color matching is simplified both in the REVO ECG and in spot colors environment. Changing inks in any press configuration takes a matter of seconds with no ink contact with the hands of the operator. Closed loop color control delivers perfect color matching on any substrate worldwide.
LB702-WB digital label printer from Mouvent, a remarkable advance in digital label production, using only 100% water-based Mouvent™ Inks, making it 100% free of VOCs (volatile organic compounds) and 100% food safe. The machine can run with up to 100 m/min on a broad range of substrates, from self-adhesive to wet-glue labelstock especially targeting applications where migration could be an issue, such as in the food industry. The LB702-WB's high print quality of 1,200 dpi leads to exceptional results on complex substrates such as textured natural wine label papers and many others. Being configured with 6 colors, the Mouvent water-based press allows for excellent ECG printing and Pantone matching. Paired with the in-house developed Mouvent™ DFE, customers benefit from easy file preparation, perfect color consistency and variable data printing for real-time customization. It all results in a combination of both technical and esthetic excellence that attendees will be able to see in real time at the event.
M1X inline UV flexo press, which delivers high performance at a competitive cost. It is a partially fixed configuration machine, 370mm in web-width, developed with automation and connectivity in mind that can print and convert a wide variety of applications in one pass.
Meanwhile, the BOBST M6 press will be the star of the Flexible Packaging Arena in Hall 11 (Booth 11A50). M6 press is a combination of in-line UV Flexo, REVO Digital Flexo and the new revolutionary V-Flower print unit, allowing for job changeovers in one minute, "on-the-fly" without stopping the press, and with up to 95% press up-time. It is the most productive press to economically produce short to mid-size runs. The M6 will feature the DigiMount™ fully automated flexo plate mounting system, which features advanced electronics for improved speed and accuracy of plate mounting.
Hall 3 – stand 3A59+58

Contiweb to demonstrate its Thallo web offset system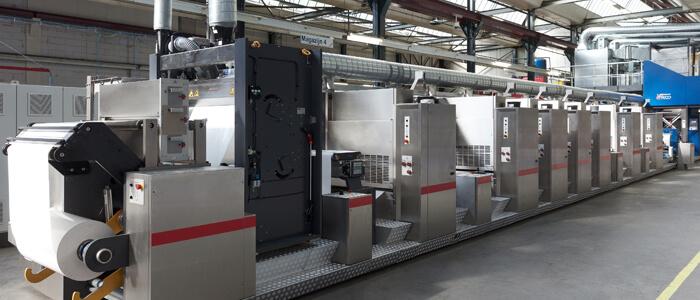 Contiweb will demonstrate how packaging and label print providers can secure greater business opportunities and enhance productivity when producing smaller jobs with its web offset system, the Contiweb Thallo.
With the ability to produce new plates in a matter of minutes, the Contiweb Thallo dramatically slashes time-consuming job changeovers while maintaining premium image quality. This allows businesses to increase throughput and exceed brand owners' expectations by reacting quickly to competitive marketing campaigns.
With a Thallo print unit on the stand, visitors will witness this rapid sleeve changeover in real-time through live demonstrations.
For those seeking to expand their product offering, the Contiweb Thallo is equipped with an advanced web tension control system, enabling print providers to not only print on paper and cardboard but also stretchy substrates. This opens the door to a wider array of applications including in-mould labels, wrap around labels, shrink sleeves and flexible packaging for food and non-food.
Hall 7 – stand 7E59
OMET to present a new printing line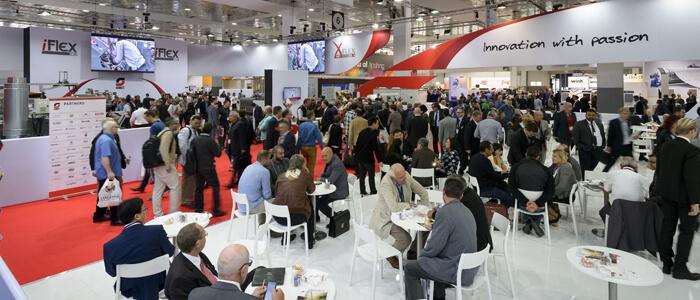 An intense R&D work, aimed at proposing new solutions and improving printing technologies in the field of label and flexible packaging has always distinguished OMET in the small circle of the narrow web "inventors". At Labelexpo 2019, OMET will prove it again, by presenting a new machine of XFlex line: as always happens at this major world fair, all details will be revealed only closer to the event.
Three machines will be on display at the OMET Labelexpo stand. Beyond the new line, there will be an iFLEX, the queen of label printing, and the highly valued XJet powered by Durst, the best hybrid digital + flexo machine on the market today.
XJet powered by Durst offers the widest range of in-line multi-process technologies for finishing requirements (cold foil, hot foil, embossing, varnishing, peel & seal, delam-relam…) as well as efficient converting solutions as OMET Monotwin-Cut variable size die-cut, OMET Twist easy-change die and OMET Rock'n'Roll matrix stripping.
Hybrid XJet is a great solution for short run with versioning and personalisation, variable data printing and fast set up, but not only: thanks to it high speed performances (78 m/min), the low ink laydown and the cost analysis and personalisation, it could be ideal also for medium runs. It prints in high quality with 1200×1200 dpi, offset-like quality and sharp precision in details and vignette, with adding-value features, all-in-one prodution and combination printing.
For growth oriented printed enterpreneurs who are seeking for a high performance flexo press at an affordable price, iFLEX is an ideal solution that provides highest quality output with the lowest cost of production. Unlike other entry level press on the market, iFlex comes with newly designed and highly sophisticated features which help printers in reducing set-up waste, production waste, changeover times and overall cost of maintenance.
Hall 6 – Stand C49-C53
Digital + die cutting: Labelexpo at full speed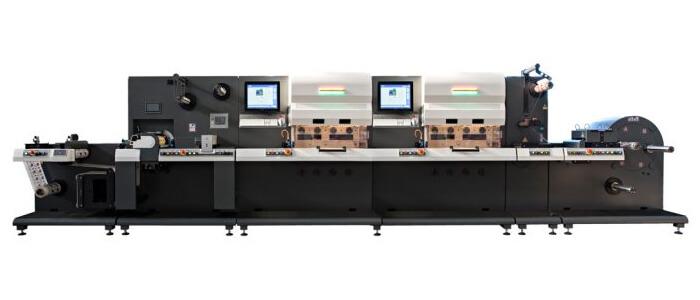 SEI Laser, world leader in laser technology, exhibits the latest enhanced version of Labelmaster at the next Labelexpo, in two models with web widths of 350 and 600 mm. With them digitalization, from order receipt to shipment, reaches a new level of speed and productivity.
Labelmaster, the most complete and professional modular system for "roll to roll" and "roll to sheet" digital die cutting and finishing, is the perfect solution for the production of self-adhesive labels in all sectors: industrial, wine, food&beverage, beauty, textiles, flexible packaging, promotional, converting and many others. During Labelexpo Europe, visitors will have the opportunity to see the laser processing of different types of labels and special finishings on different materials – such as paper, PP and textile – to appreciate laser versatility and its excellent quality, the result of the work of the engineers from Curno (BG).
"Labelexpo 2019 edition is configured as the definitive consecration of the digital business model, now indispensable in all (or almost all) labeling and packaging segments", says Ettore Colico, Converting Director at SEI Laser. "It is no longer a matter of the well-known special effects but of confidence and respect for a digital technology that has now reached full maturity. Jumbo rolls, automatic motorized knives and "wide web" will be the key points of the SEI Laser stand in Brussels."
More efficiency
Labelmaster is specifically developed to meet the demands of converters and label producers looking for great performance: in an increasingly competitive market, the QR-code/barcode reading system allows you to change work on the fly, ensuring high productivity and completely eliminating setup times. Lastly, the control software, compatible with the most common digital workflows, maximizes efficiency in the various types of work: web to labeling, web to stickers, web to packaging.
Over 100 m/min
SEI Laser will present two configurations of the "Best in Class" laser solution for labels at Labelexpo 2019: Labelmaster in 350 and 600 mm web configurations. Labelmaster, now in its third version, will be equipped with 4 laser heads to reach a constant speed of over 100 m/min, equalling and exceeding the productivity of traditional die-cutting and finishing systems. The speed is kept constant by the "traction control system", which works in synergy with the control unit of the longitudinal deviation of the material, guaranteeing perfect registration and a high quality laser processing.
Labelmaster is a modular system, customizable upon purchase or later, with different finishing options: die-cutting, cutting, microperforation, easy-open, engraving, coding and, thanks to optional, different finishes: semy rotary flexo printing/ varnishing, semy rotary hot stamping, inspection, control and slittering.
Hall 9 – stand C57
Vetaphone will be exhibiting four machines at Labelexpo in Brussels.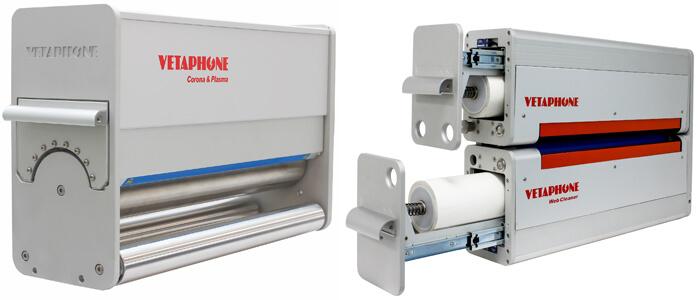 For those looking for narrow web surface treatment, the company will be showing two Corona stations.  The VE1A-A (C4) features four ceramic electrodes and is designed for single-sided treatment, while the newly launched VE1A-M (C8) is designed for complex substrates and applications where high Corona power is required from a single unit.  Fitted with eight ceramic electrodes, the new C8, which is capable of operating at running speeds in excess of 300m/min. Both models are both CE and UL approved and like all Vetaphone Corona units, they are developed for non-stop production and easy maintenance.
Also new to the Vetaphone portfolio is a range of Web Cleaners that are designed to complement the company's Corona stations.  On display will be a VE2A-W (double-sided) and VE1A-W (single-sided) unit, available in four widths from 350mm to 570mm and capable of running at 250m/min.  The intelligent design and use of high-quality elastomer cleaner rolls and perforated adhesive rolls ensures that all contamination is removed.  The units are easy to access for cleaning and maintenance and can be fully integrated with the Corona system via the iCorona generator, eliminating the need for any additional operating system.
Hall 7 – stand 7E28