One hundred percent servo driven, zero starting waste, Industry 4.0 connectivity, super simplified set-up and operation. Inglese Srl presents the new Werosys entry level finishing unit, which accompanies the Danish manufacturer's larger and more multifunctional model.
One of the most interesting new features of Print4All – for the first time on show in Italy after its worldwide launch in September – was seen at the Inglese Srl stand. This was the Werosys Compact Ultra, a rotary or semi-rotary version entry level model finishing unit made by the Danish manufacturer. Its presentation with live demo at the new supply chain fair is the result of a recent agreement between the established Emilia based company (Quarto Inferiore, BO), specialized in Graphic Arts supplies, and Werosys ApS, active on the global market for converting and finishing machines for the label sector, to which it offers advanced and original design solutions.
Simple, connected and zero waste
"Werosys", explains Bjarke Nielsen, CTO and Founder of the company, "is 50% mechanical engineering industry and software house for the other half. The two teams work in close interdependence, applying 4.0 criteria, including cloud computing and Internet of Things (IoT) to create highly automated machines that are simple to use and that offer low consumption, not only in terms of energy but also in terms of start-up waste. For example, in the case of the Compact Ultra (but this also applies to the larger and more multifunctional model), start-up waste goes from 100-200 metres standard to 10 metres or less, offering consequent savings to the benefit of the user and the environment."
This result is due to a brilliant electronics, tested on the most sophisticated machines and now imported onto the basic model, which thus ensure atypical functionalities for this range of product. Obviously this includes work storage, dialogue with other machines and the user's central computer system, as well as remote connectivity to the assistance service computers, which can thus make diagnoses and solve problems in real time. But not only that.
"With us at Werosys", Nielsen states, "noble electronics undergo maximum simplification and automation both in terms of the individual functions and of the overall processing cycle. To change jobs you just need to enter the new parameters on the touchscreen, make the necessary checks in real time and give the start command. No tools are required, and a capable person can start the new job after less than a metre of waste; thanks to this, by printing more jobs on the same reel, these can be managed without stopping the production, entailing an extraordinary increase in fluidity and productivity throughout the entire system."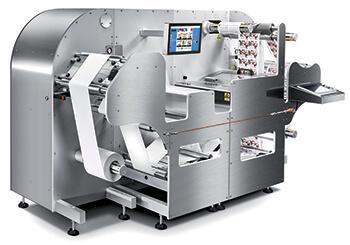 Modular functions for different types of use
The Compact Ultra on show at Print4All is the basic model, consisting of an unwinder, Laminator, combined rotary and semi-rotary die-cutting unit plus slitting and rewinding and is the classic configuration for those entering digital printing (but also serves traditional printing machines well, the Italian rep. underlines) and who hence begin with small volumes.
"This same machine, however", underlines Marcello Morara, sales director of Inglese Srl, "also meets the needs of medium or large labeling companies, who use it for small runs and adopt the larger and faster model for large batches and ancillary processes."
With a 100 meters/minute slitting and rewinding speed, the machine also works well as a tool for conventional label production, increasing its adaptability in a modern future-proof production setup. Werosys machines in fact work stand-alone or in line with digital printing machines of the various manufacturers and are highly modular, therefore they can also be integrated with various types of aids, such as automatic reel change. Multiplying the functional elements enables both an increase in speed and, in addition to die cutting, enables the achievement of finishing processes such as flexo printing and coating, cold foil, UV lamination, Hot stamping, Screen printing and more, turning them into true high-level "hybrids".