Chronicles from Düsseldorf, among the crowded corridors of the K, the city's clogged streets and kilometer-long queues at airports. To visit an increasingly significant trade fair for the package printing&converting supply chain, with new product launches, shows and OH from the global companies.
K 2022, the latest edition of the world's largest trade fair dedicated to the plastics and rubber industry (where K stands for Kunststoff, plastic in German), closed on Oct. 26 after eight days of intensive proceedings. In addition to reporting the excellent redemption figures communicated by the Messe Düsseldorf organizers (3037 exhibitors and 176.000 visitors from 157 countries: see QRCode) we tell you what we saw, our impressions as visitors and the experience of the exhibitors we visited.
Lots of people and lots of packaging
First of all, the influx of visitors: dense, lively and international, mainly from Europe but also -confirmed at the booths – from the Americas (more South than North), India (although Diwali, as important as Christmas for us, began a few days after the fair started), the Middle East and parts of Africa. A finally full turnout, after the bleak beginnings of the first events of the year, and the modest turnout of international audiences at events even just a few months ago. A turnout, finally, of interested operators, looking for information on the new technologies and products needed by an industry that does not seem intent on stopping investment, despite the uncertainties and difficulties of a "drawn-out" present and a prospect of decline in the near future.
The second noteworthy finding concerns the growing presence of exhibitors from the package printing & converting supply chain. Compared to the traditional application sectors of those exhibiting at K- from construction to automotive via agriculture and medical sectors – packaging represents a smaller segment, but in recent editions it has been gaining momentum and has identified the Düsseldorf triennial fair as a natural stage for developments marked by the circular economy.
New sustainable materials and machine launches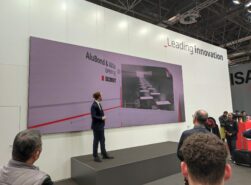 It is here, in fact, that we have seen the R&D results of polymer manufacturers, traditional and "bio," and converters who, together with suppliers, are developing new sustainable laminates and alternative monomaterial structures. And don't be fooled by the fact that K is the plastics fair, because on display we also saw paper-based packaging structures, complemented by the necessary barriers, with performance that was unthinkable until very recently. And sometimes already in the form of an industrialized product, such as the OneBARRIER FiberCycle displayed at the booth set up by Bobst , developed by the Swiss manufacturer together with UPM and Michelman, and transformed by Hutamaki for the market.
Exhibiting at K, of course, were the chemical majors – which produce inks and related intermediates, adhesives, solvents, and lacquers for packaging – as well as manufacturers of film extrusion and stretch-blow molding, laminating and coating machines and, increasingly, printing presses.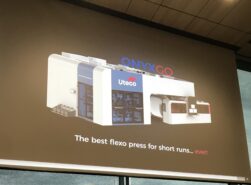 Some took advantage of the large international stage to organize visits to their nearest demo centers (Bobst and W&H) and to preview the fruits of R&D from these last few years of (relative) segregation. Two, in particular, were the launches we witnessed: Uteco's Onyx GO short-run flexo press, totally revised in every component, super compact and operator friendly, with great performance (job changes in 3 minutes, waste 18 meters, speed 400 m/minute, consumption reduction and much more which we discuss in the "flexo special" in this issue) and the blown extruder from Windmöller & Hölscher, designed in detail to achieve new goals in energy sustainability and circularity, performance and operational flexibility, and presented in a high-impact show played on the dialogue between humans and artificial intelligence.
Among machinery manufacturers, we also visited the dynamic BFM, which brought three major innovations – two flexo stacks (an energy-saving 8-color and a line for industrial sacks) and an 8-color gearless CI flexo – to Düsseldorf; Czech Soma, which led live demos at the booth of the interesting Optima² flexo printing machine that we reported on in Converting 4/2022; and Indian manufacturer Kohli Industires, a media and market phenomenon, which brought to Düsseldorf the latest Plutus-9one8 multiprocess laminating and coating machine and a whiff of India on the first day of the great festival of Diwali, celebrated at the fair in traditional dress, with tea and sweets offered to visitors.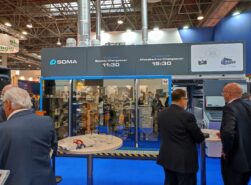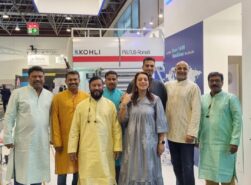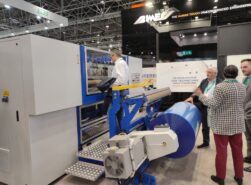 Partnerships and market movements
In short, the K is becoming, after drupa in Graphic Arts and Printing, one of the international benchmarks of packaging converting.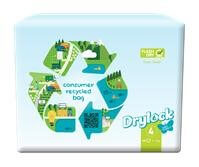 In our visit, we saw many Italian companies in the industry, many new products large and small, met a lot of friends and discovered things we didn't know. Like the acquisition of Donau Carbon Technologies by the Babcock Wanson-Kartesia finance company, a prediction of an acceleration in the Lombard company's core activities of air regeneration and solvent recovery. Or like, changing levels, the presence of dynamic Bergamo-based converter Plastik SpA at the Sabic booth, whose new TrucircleTM-brand recycled materials is used to make the backsheet of diapers and other hygiene products. Sabic's new films based on recycled PP and PE meet the purity and wholesomeness standards required in healthcare for skin contact products and represent a new sustainable opportunity for packaging as well. And we noted the vibrancy of the "end-of-life" players who presented technologies, equipment and organizations – Germany's Interzero, to name one particularly active one – but also networks of inter-branch relationships that today, at all levels, are the first, real driver of innovation.
The centrality of components and equipment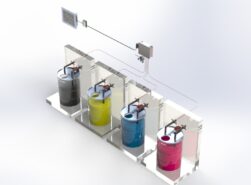 But, above all, we saw stands and proposals from a great many suppliers of components and complementary equipment. In this first partial list we report the great interest aroused by Rossini's Ecograv system: the world's first line for the production of rotogravure cylinders without copper and chrome coating, ready for electromechanical engraving.
We confirm the high level of technology achieved by slitter rewinders, where Bimec came to attention for performance and evolutionary path of machines for plastic, laminated and cellulose films, and the IMS Technologies group spotlighted the new all-electric eXTRASLIT and the Icebreaker 165 SG automatic embossing rewinder.
Mechanical and motion transmission systems from RE SpA, which also presented new, state-of-the-art web guiding systems, attracted visitors to an always-full booth, as did hardware and software components for quality control and process management (from Camis the more automated plate mounters and viscometers from Gama, but also the ingenious CCSone for controlling ink consumption launched by I&C).
Among the elements that make a difference in the printing process, mention must be made at least of Simec's aniloxes, a new frontier of innovation in the limelight in a large, elegant space set up to enhance the brand and all the group's product-service lines, but also – mutatis mutandis – the iPQ-Surface BST modular surface inspection system for 100 percent inspection of different materials, and Ulmex's laser cleaning systems, which brought to K not only the new release of the exclusive Evolux system but also a new line of Evocleaner plate-washers featuring a special fall-prevention mat that solves a classic problem in this process.