After the launch of the new Cyrel EASY ESM and EFM plates for paper stock substrates at the most recent Labelexpo, DuPont shares more about the innovative technology platform among those enabling the market and boosts its R&D commitment in printing industry. Interview with Bernd Daiber and Mario Castelli.
Simple workflow, enhanced productivity and high consistency; no investment in nitrogen exposure units or laminators to achieve flat top dots. These are the most striking advantages offered by Cyrel EASY plates, launched by DuPont at the last drupa and then developed in additional versions for individual applications, from the EPC plates for corrugated board to the latest ESM and EFM for paper stock substrates. Cyrel EASY plates are available with an engineered (EFE or smooth (EFX) surface, the latter perfect for use with micro-cells, especially on films and can be processed with either Cyrel EASY thermal workflow or solvent workflow. At the heart of the innovation, a new polymer with an incorporated flat top dot, which – as shown by the tests – is ready for printing in less than an hour and ensures a high print quality. It is measured in terms of higher resolution and higher ink transfer, with a significantly higher density without sacrificing dot quality at highlights. Cyrel EASY is therefore ideal for printing with a wide tonal range and has goal (and characteristics) of becoming the "benchmark" in flexible packaging quality printing. And the market is responding well to it, as confirmed by Bern Daiber, Regional Manager EMEA of DuPont Advanced Printing (both for flexo and Digital Inks) and Mario Castelli, Sales Manager for Italy, Greece, Malta and Cyprus as well as Key Account Manager for Digital Inks.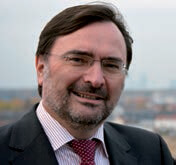 Mr. Daiber, what are DuPont latest developments in the printing industry?
First of all, I would like to point out the new Cyrel EASY ESM and EFM medium-hard plates specifically suitable for paper stock substrates. This is the latest development of Cyrel EASY technology; among the revolutions in this field, which provides users with great advantages in terms of quality and cost-effectiveness. This is a further evidence of DuPont commitment to continuously improving the performance of flexo printing. I would also like to mention the latest generation DuPont Cyerl FAST 2000 TD thermal processor, which delivers high performance and is easy to use and the new range of DuPont Artistri digital inks, embodying the growing commitment we are dedicating to this printing technology, which is increasingly being used as a complement to flexo to increase the service capacity of the converters.
During the last drupa, the Cyrel EASY technology stood out among the innovations of the fair. How has it been welcomed by the market?
For DuPont, in 45 years of history in flexography it has been the fastest and most successful launch of a new platform. And now, after the first product for flexible packaging, we have presented the developments for paper stock substrates, which are undoubtedly of interest also for the label printers, completing the range of flat top dot plates for flexo. Cyrel EASY paper plates do not require any new investment in equipment and perfectly meet the need for simple, reliable and cost-effective solutions.
Therefore, also the narrow web showed interest in the new system….
Yes, absolutely. In the narrow-web segment operators are particularly curious and open to new products. At the same time, they are extremely demanding in terms of quality. This is the main reason why they have embraced the new Cyrel EASY technology – this makes it even easier for us: being accepted in this sector facilitates the creation of new opportunities. The interest is in solvent plates, but also and increasingly in thermal plates; converters are increasingly developing plates on site and do not want to use chemicals. This is the reason why also the second-generation thermal processing units registered double-digit sales in a short period of time.
Which are DuPont future objectives?
To further consolidate our leadership in cooperation with our industrial partners, by making innovation to meet the needs of users and without ever departing from the basic principle of sustainability.
What does it mean in practice?
Customers that are still using analog workflow are very interested in the latest developments in the digital segment that we have launched at drupa. We are very strong in home office and textile and now we are becoming established in packaging, where more and more operators are using both analog and digital technologies. What DuPont is able to do in this area is already clear by looking at the products and the Neu-Isenburg demo center will help us establish ourselves as a reliable partner. It's now there for all to be seen: printing and graphic arts will have a great future and we're there.
[su_box title="What about the Italian market? More and more EASY" box_color="#e6000a" radius="5″]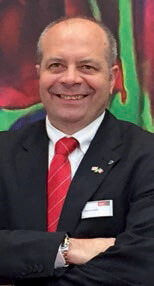 Mario Castelli, DuPont representative in our country with the dual role of Sales Manager for Italy, Greece, Malta and Cyprus and of Key Account Manager Digital Inks, shows us all his satisfaction: "with the support of DuPont marketing and of the various tests carried out at selected printers, DuPont Cyrel EASY FAST workflow is becoming increasingly popular with extremely positive feedback on the achieved quality and this has been also confirmed by the sales results. The market – the manager says – asks for simplicity, speed and quality, nothing less, and that's what can be achieved with Cyrel EASY plates. But pay attention not to underestimate the environmental compatibility demand that, now also in Italy, expresses a real and widespread need. For DuPont, having always moved in this direction, establishing itself as one of the leaders also in terms of sustainability, this represents an undoubted competitive advantage: our FAST thermal plates incorporate all the characteristics required by the market in a single solution." The new Cyrel EASY plates for paper stock substrates confirm this. Simple processing without the need to buy new equipment, simplification of press start-up, uniformity of the plate surface, high ink transfer: all these elements allow to obtain higher quality results. Not only that. The possibility of printing with a lower pressure also allows – in the case of EPC plates for corrugated board – to reduce the wash-boarding effect on this particular type of substrate. The ESM and EFM plates for paper are, of course, still in the process of being introduced on the market, but the first tests show the high number of possible applications on the various types of substrates and allow us to make optimistic forecasts regarding the use of these plates.
[/su_box]