We saw Soma's Optima2 8C in live demo at the first Italian user. Many interesting features of the machine, purchased by Novara-based converter Masterpack complete with automatic plate mounter to print medium and medium-short runs in flexo with a "gravure quality."
A flexible packaging offering that develops in the two main strands of special and standard materials, for food and beyond*. An R&D that never stops, with skills and heart in the family that founded and runs the company that created and still runs the organization today (alongside founder Claudio Binda today his children Valerio, Max and Arianna also work). Ambitious plans for growth, especially in specialties and especially abroad. A focus on quality flexo printing, in which the latest investment has been made: an Optima2 8C from Soma with web width 1000 mm with the attached automatic plate mounting, which allows it to compete in quality with gravure even on short runs.
We are talking about Masterpack SpA (Veruno, NO), a well-known converter born in the fresh food IV range and grown with the success of innovative reel closure solutions that add value to packaging in service, saving and environmental sustainability. Today Masterpack continues its run with ambitious goals, within which the latest investments and new projects are inscribed.
Quality and service, pillars of growth
Luca Santandrea, General Manager of Masterpack with responsibility for foreign markets, technical background and a 360-degree growth path in production and company management, summarizes the Novara-based converter's offerings and strengths. From degassing valves for coffee packages to those for microwave cooking, from laser machining for creating register windows, laser drilling for cooking, laser pre-cuts, and so on, to the countless resealable opening systems supplied on a reel for hassle-free machinability (and without the need for new investment… ), there are many distinctive elements that have established the company in the various food segments, including the "difficult" ones of microwave cooking or frozen food.
Today they are joined by the new materials that the circular economy market demands, both paper-based ("preferred whenever possible") and polymer-based, from polyester trifold to high-barrier monofilm to the new compostables: "for now they are only in demand in some niche markets, however they represent one of the development strands to which we should devote attention. We have already made compostable solutions for packaging salads, frozen foods, coffee, and certified some facilities."
Masterpack is constantly working with technology partners to identify new sustainable materials that can meet the needs of individual customers on a case-by-case basis. "Among other things, we are working on temosealing papers, to provide a solution to one of the classic problems of paper-based packaging, and on monomaterial films, an alternative to multilayers because they are recyclable."
It's (not) all about price
we are building a new shed and installing a new zipper machine that can also make special systems, to meet a demand that is growing especially abroad. Speaking generally, in fact, foreign brands are culturally more open and sensitive to the business prospects that different packaging with higher service value and distinctiveness can open up. And so they are also more willing to pay for it, as well as able to do math: marginality is not all about price…."
And how does Masterpack make investments? "The decision to buy a Soma flexo press was not incentivized by a lower price than other comparable solutions," the two managers state, dispelling any doubts in this regard. "We were looking for a flexible machine that could rationally handle medium and medium-short runs-typically in terms of job changes and operating speeds-while guaranteeing the highest print quality. The tests convinced us, we got off to a good and fast start, with good support from the supplier, and we've now been in production since July without any surprises or hiccups. In short, we are satisfied."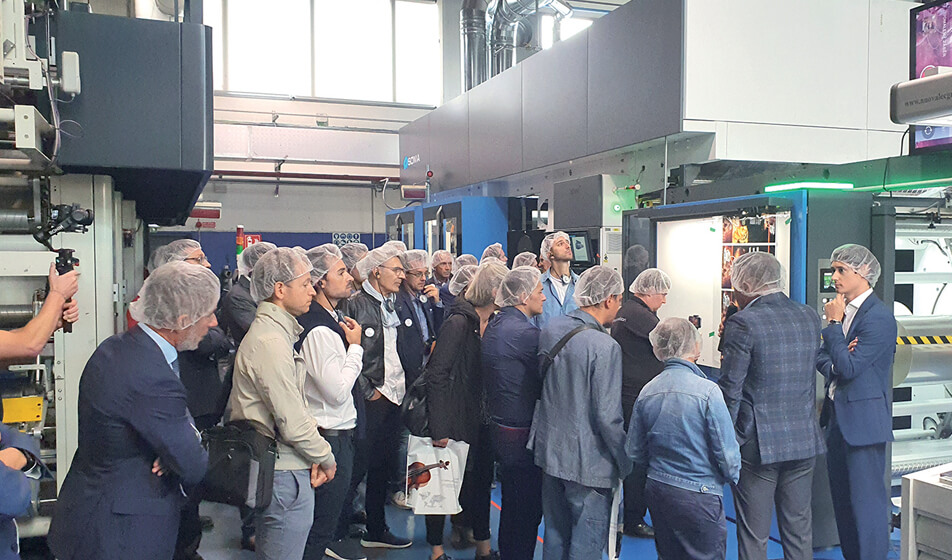 The new flexographic machine
In this context, live demos carried out last September 21 at the Masterpack plant in Veruno clarified what is meant here by "flexographic printing with gravure quality, short runs."
The jobs were challenging: two consecutive prints were made from the challenging graphics, with results that everyone could examine, commented on by Vincenzo Consalvo of Inciflex, who, as an expert and partner in prepress, highlighted the characterizing elements: contrast, dot gain, dot stability, zero shading…
On Soma's new Optima2, full start-up was performed, from plate mounting to job set-up, reaching industrial process speeds in a matter of moments. With the acknowledged concurrence of the components of what is correctly called the flexo ecosystem: the MacDermid plates, Grafikontrol controls, ColorConsulting color management systems, Rossini cylinders and BFT Group doctor blades.
Machine features
The Optima2 8C installed at the Masterpack plant is a high-speed, fully automated mainstream machine designed for the wid web segment (food packaging, frozen food, healthcare products, paper and plastic bags…). It prints virtually all substrate types, up to 8 colors with water-based, solvent, UV and UV-LED inks, at up to 600 m/min.
Its distinctive features are numerous, including 3 of structural order. The first is the flexibility of the radically modular design, which allows the configuration to be fully customized and new assemblies to be implemented over time.
The second is the particular robustness due to the type and thickness of a unique one-piece frame, which plays a decisive role in containing the bouncing typical of high-speed flexo (a result due to the combination of the many elements of the "Advanced Bounce Control" system built into the machine, including carbon fiber spindles).
Good last, a very high degree of automation that is at the same time easy to manage. Indeed, the "physicality" of a machine where iron and cast iron can be felt is matched by the lightness of the "intelligence" that governs all aspects the process and efficient cloud-based support. Embodied in the algorithm that manages very fast and "zero waste" set-ups (the so-called Job Tuning) and in the other features, automated to speed up the process and zero human error, it shows its effects in the simplicity of operation, accessible even to less experienced operators, and in the connection between machine and controls, machine and workers and machine and accessories – first of which is the plate lifter being demoed at Masterpack.
More on automation
Here are a few examples of automation that favors short runs:
a single job recipe is sufficient for all SOMA machines connected to the S-Cloud; it means fewer errors and more efficient job changeover on the S-Mount and Optima plate mounters;
the Intelligent Changeover function guides the operator during job changeover, minimizing the number of tasks to be performed and automating all possible steps. With the IRIS function register and pressures are set in the machine fully automatically, as well as inking, color, substrate adjustment, and…
all parameters of efficiency and consumption of energy, solvent, air, etc. are constantly monitored online and displayed on any device connected to the Internet;
washing has also been made more efficient, through an original system system called Ink Storm.
S-Mount
To facilitate the integration of the various steps in the process, Soma created the S-Mount automatic plate mount, aimed at achieving faster and more accurate plate mounting, with error stops reduced to a minimum. S-Mount benefits from IRIS functions that detect plate topography and register, providing the basis for automatic register and pressure settings on all printing units, which are activated in a couple of minutes with near-zero ink and material waste.
The cartridge system also reduces ink costs in print jobs where spot colors, special effects and metallic formulations are required, with significant savings.
Masterpack: the winning products
Masterpack produces flexible packaging materials, divided into two main families:
cutting-edge products, such as materials with applied reclosure systems such as open-and-close labels or zippers; those with delamination reclosure systems; those with degassing valves for coffee beans and powders, or valves for microwave cooking; films with laser perforations, laser pre-cuts, and so on;
standard materials or those with eco-friendly solutions for both food and non-food.