Proteco Italia was growing continuously, supported by a hi-tech offer of quality laminates and pouches and a solid relationship of trust with customers, which creates loyalty and gives security. But then the first digital press came into the company. And also the founders' children ….A beautiful story of young people, openings, collaboration and new, highly promising business prospects. Under the aegis of HP Indigo 25K.
n Lombardy the people of Pavia have a reputation for being reserved, of not wanting to talk about themselves or make a fuss about doing excellent things. But in this foggy October of 2020 Proteco Italia (Bosnasco, PV), active and quiet converter of flexible films and flexo printed pouches, has jumped into the spotlight. The authors of the sortie are the Valente siblings, son and daughter of the founding entrepreneurs: Veronica (24 years old) and Leonardo (23) joined the company and with the vehemence, enthusiasm and open-mindedness of young people who have little to betray and everything to gain, have given impetus to the strategies designed to launch new development projects.. These are based, on the one hand, on the launch of a marketing and communication policy and, on the other hand, on the introduction, in a firmly flexo-centric plant, of digital printing, embodied in the new HP Indigo 25K for flexible packaging. Purchased and installed in just over a month and immediately put into operation by the newborn Digital Team together with the manufacturer's technicians.
Go on Proteco website and watch the presentation video of HP Indigo 25K
Inside the community/the fussy consumer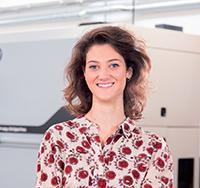 Veronica, who has a degree in Public Relations and Business Communication, has very clear ideas and great confidence emanating strength of mind. «Our parents, who developed this company support us with their experience, and the employees, who on average are just a little older than we are and show the same desire to commit themselves, speak our language (digital)». As soon as she arrived, fresh from her studies, she revolutionized the website, redesigned Proteco's image and activated new communication channels. And, above all, she promoted a marketing strategy as a proactive supplier, careful to catch the phenomena that affect the market: «Today we need to be able to print everything on the packaging and this is what we allow our customers thanks to the HP Indigo 25K, with that flexibility that allows you to pass without cost, waste and downtime from the campaign on the product without palm oil to customizations with discount codes or 'scratch and win' formulas. The digital process, the Mosaic algorithm and the technology of the variable data enable a shifting of the focus from the content to the container and demonstrating the value (in positioning and turnover) of being able to stimulate the consumer's playfulness and desire to possess the product.  We did not buy the HP Indigo 25K to "add a new machine to the ones we already have" but to open new markets that we could not reach with other technologies».
Economic Advantages/Environmental Sustainability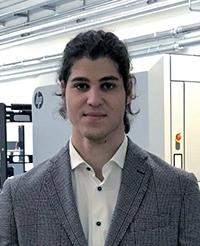 Leonardo, with the training and having also worked his way up as a graphic designer, as well as a start in Proteco's sales dept., emphasizes: «The market described by Veronica also affects us packaging manufacturers. Today we cannot merely be satisfied with masterfully realizing the ideas of the brands; we must also know how to inform the customer about the technologies they don't know about and the things they don't know they can do, dialoging with their marketing people and technicians. In this way we create new value, something that can be easily acknowledged: this is the prospect that digital printing has opened up to us». But the HP Indigo 25K also generates concrete and immediate advantages of economic and environmental sustainability: it eliminates clichés, accelerates start-ups and zeroes waste, it also uses inks suitable for food packaging that are ecological, healthy and thus do away with the costs and problems of solvent management in expensive recovery plants. Advantages which are aboveall useful to the user: «With the HP Indigo 25K we can make short runs at affordable prices and therefore provide customers with exactly the amount of printed matter they want and when they want it. In this way we can avoid them having to  warehouse stock (and this is already a saving) but above all having  to waste large quantities of no longer usable printed film: because it is too old or because the customer has changed the graphics, color or promo campaign in the meantime. And we all know well how much it costs to dispose of plastic, and how everyone needs to be mindful about protecting the environment».
Variations and customizations/Web-to-print
Compared to traditional flexo printing, which in Proteco still constitutes a key technology hub, the HP Indigo 25K is not an alternative, but a complement, adopted to achieve new types of products and that might offer the prospect of activating a digital sales channel.
«There are various ways of understanding  Web-to-Print», considers Marco Murelli, HP Indigo contact person for the Proteco project. «The 'supermarket way', where a customer I don't know needs 527 stand up pouches, on the Internet he discovers that I can provide them and orders them from my special website page. Or  the 'B2B way', where the order-work-delivery flow via web serves to speed up and simplify my customers' work process, eliminating all the errors and downtime of the traditional flow, with obvious benefits in terms of savings and delivery speeds. Both are feasible and advantageous, but require a digital maturity of the market that in Italy, despite the acceleration impressed by Covid, cannot be taken for granted».
In Proteco this eventual project development is considered with maximum interest but it is put off to a subsequent "phase two", in order to have the right  time to inform and sensitize a customer who needs to be helped to understand the advantages and simplicity of the online channel. «We want to do things well, simply, humbly, step by step. We won't be dedicating ourselves to online sales until 2021», Leonardo and Veronica agree, shifting the bar into a future that, in reality, is not that far away.
Those pieces that needed assembling/Welcome on board
Having clarified the reasons for the enthusiasm for digital printing, the focus of the two Valente siblings shifts to the relationship with a supplier that, the two tell us, has made this story somewhat unique and to certain extent unexpected. Right from the first email: «For us, choosing HP meant entering into a relationship with a very large hi-tech company, but also with people with a readiness to help beyond all expectations», recalls Veronica. «Having concluded negotiations our first email ended with a "Welcome aboard" that surprised and excited us. And it wasn't rhetoric: HP fielded excellent technicians, who worked in Proteco as if it was their own company, and managers – Marco aboveall – who helped us to shape our project and who will continue to support us in developing our digital business». «HP Indigo – sums up Leonardo – is not the typical supplier, who sells the machine and then leaves. For them 'partnership' is much more than just a word».
HP sends its thanks and returns the compliments: «If we were able to assemble, install and start production of the K25 in a month – against the year and more required by a gravure or flexo press – it is also because we are both very well organized companies» says Murelli. «The machine arrived from Israel in a series of different crates and assembling it was a bit like playing with Lego, though we were backed up by a lot of people and a very experienced directorship. Only by watching the video of this article in RA will you really understand what it means! And when the first prints came out it was really exciting», Veronica and Leonardo tell us.
Now it works. And in Proteco the young, skilled and enthusiastic Digital Team has been born. Forward looking and fantastic… «Maybe in a while we'll buy another one..».