Converting at Printech Asia (Bangkok) and at China Print (Beijing) + Print China (Dongguan) with Acimga. The internationalization program of the italian manufactures of printing and converting machines' association re-starts from Far East.
Today in Bangkok, Thailand, is starting Printech Asia (13-16 June) along with Propak Asia 2018: one of the fairs of the Printech circuit, which sees Acimga directly committed alongside the organizers, in order to promote Italian industry in the world.
The thai exhibition returns bigger than ever for its 26th successful installment as the leading trade show of its kind for Asia's rapidly expanding processing and packaging industries. This year sees the addition of a 9th hall, increasing the total exhibition area to more than 58,000 sq m – a 10% increase from 2017 – which means even more suppliers will showcase their latest innovations, machinery and industry solutions to an expected record number of over 50,000 attendees.
ProPak Asia 2018 features more than 5,000 advanced machinery solutions for all business sizes, from large enterprises to SMEs and startups. 1,600 exhibitors from 45 countries, and 18 international pavilions from the following 13 countries: Australia, China, Denmark, France, Germany, Italy, Japan, Korea, Singapore, Spain, Taiwan, UK, and USA will showcase the very best and latest processing and packaging technologies across 9 industry zones including; ProcessingTechAsia, PackagingTechAsia, DrinkTechAsia, PharmaTechAsia, Lab&TestAsia, MaterialsAsia, Coding,Marking&LabellingAsia, Coldchain,Logistics& WarehousingAsia and Printech Asia. Boosting manufacturing capabilities and production variety and efficiency across Asia.
Visitor pre-registration is up 15% y-o-y with more overseas buyer delegations attending than ever before from countries including; Bangladesh, Cambodia, India, Indonesia, Laos, Malaysia, Myanmar, Philippines, Singapore, Sri Lanka and Vietnam.
In addition to the huge exhibition, Printech Asia 2018 features new conferences including some about market trends on south-east of Asia. The speech of Enrico Barboglio, director of Converting magazine, titled Printing and converting market trends has been attended from a big number of active and interested operators.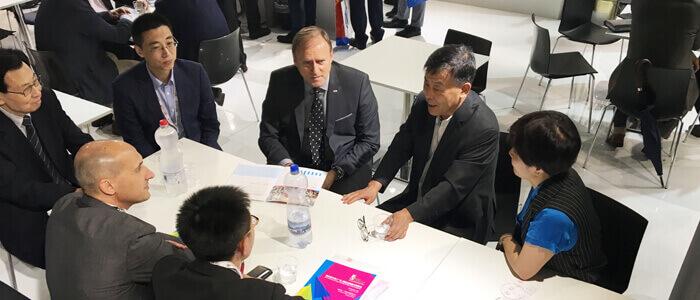 The internationalisation program of Acimga has also been reinforced during Print4All where Andrea Briganti and Aldo Peretti, respectively Acimga's director and president, welcomed the top management of Peiac. The powerful Chinese printing machinery and equipment manufacturer's association organize the two main trade shows held in China: China Print and Print China. This visit consolidates the relationship between the two institutions and the recognition of their mutual undertakings: the debutant Print4All and the next Print China to be held in Dongguan, in the south of the country, from 9 to 13 April 2019. To date, some 1200 exhibitors have booked space there.
The partnership with Peiac represents a piece of the broader internationalization strategy developed by Acimga to support Italian printing and converting company exports, often also open to companies not registered with the Italian machine manufacturers association, which sees the B2B exhibitions on the markets that counts as the main instrument.