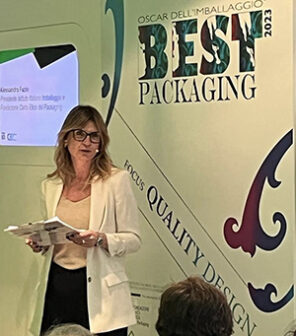 Milan design week, with this year's edition glorious turnout figures, couldn't surely miss the Italian Packaging Institute's award for Best Packaging. The projects were selected by a jury of experts chaired by Valeria Bucchetti, coordinator of the Communication Design course at Politecnico di Milano and introduced by Alessandra Fazio, Head of Quality at Nestlé and President-in-Office of the Institute.
The Jury evaluated the projects according to their structural size, visual impact, informative attention, functionality and modes of use, with particular attention to ergonomic, service and performance improvement.
Two special prizes have also been awarded, one, sponsored by Conai, for the Environment, and one for Technological Innovation, with the patronage of Ipack-Ima. And, with the support of Fondazione Carta Etica del Packaging, a special innovation award was assigned to an innovative startup and another one to a research paper on packaging. In the almost 60 years in the history of the venue, it is the first time the contest is open to these two categories of perticipants, as strongly advocated by Alessandra Fazio, President of the Italian Institute of Packaging and Fondazione Carta Etica del Packaging, to recognize the role of University and start-ups as engines of innovation.
The new, vibrant blue look for Barilla Group, the intolerant-friendly pizza from Coop with an oven-safe lid, pre-cut cardboard multipacks, iconic and minimalist packaging for sustainable cosmetics, a new material derived from tomato processing by-products, the new recycled and recyclable packaging from Latteria Montello S.p.A. – Nonno Nanni evermore eco-friendly… the tribute of the cardboard-converting and flexible packaging industry to the Institute's renowed contest was particularly relevant.
The prizes were awarded on April 21 by Alessandra Fazio in the company of comedian and trainer Diego Parassole. All the winners and jury statements (in Italian) avalaible here.