A "Dell-like" organization and super-competitive prices; the faith of buyers large and small all over the world; 30 thousand hours of average machine life and highly efficient remote services; the new model for corrugated cardboard… Martin de Wit foresees the same future for lasers and explains the Laserclean phenomenon.
Today, laser systems for cleaning aniloxes account for only 5% of the global market, but the exponential growth we have been experiencing for some time now foresees a radical change in the balance "a bit like what happened with electric cars, which were almost non-existent ten years ago and are now at the center of the development projects of all the world's manufacturers", considers Martin de Wit, owner of Laserclean. He makes a prediction: "taking 100 as a total 80% of the next investments in a cleaning unit will involve a lasersystem". This analysis is supported by the history of his company, which today finds itself, and not by chance, "in the right place at the right time". De Wit started Laserclean in 1994 in the laser cleaning systems business and in 2003 shifted its focus to the printing segment. In 2010 it made its first big leap – starting production of its own system based on a new type of fiber laser – and in 2015 its second, structuring an international sales network that propelled it onto the global stage, where it now boasts an installed base of more than 50 systems and a lively growth trend. It comes from a combination of several elements: a particularly flexible production model, a clear and systematic commercial approach, an offer of high-tech but also easy-to-use systems, very aggressive prices, lower than the average even by 20%… We asked Martin de Wit to tell us about them.
Laserclean is doing one installation after another in the most diverse countries of the world and today it "lands" in Italy, where in December you will start free demos and an important discount campaign. What are your goals?
The Italian market is very interesting both for the number of companies that print in flexo and because Italian operators are sensitive to price, of course, but also to the quality of work, which are precisely the two main advantages offered by our ALCS systems. This is why we thought that presenting ourselves directly, to show how our machines work and with what results, would be the most effective way to make ourselves known.
One of your main marketing levers is price: how do you manage to balance product quality and such significant reductions?
By combining a "Dell-style" production organization, flexible and modular, with machines available in stock and fast deliveries (within two months), with the advantages of direct marketing: ordering ALCS systems from Laserclean, without intermediary costs, allows very substantial savings. But the low price is not the only reason for savings: it adds up to other economies driven by laser technology, which eliminates all the chemistry and related costs of both purchase and disposal. Not to mention the fact that the laser makes it possible to cut down on the number of cylinder regeneration operations: a very costly operation – at least 8 times a working cycle on the ALCS – which most of the time can be avoided precisely by carrying out adequate cleaning.
Please explain
The "dirt" that accumulates on the printing cylinder is a combination of pigments and polymers. While the pigments are visible and can be effectively removed with solvents, the polymers form a transparent, invisible layer that compromises the surface tension of the roller and thus prevents optimal ink transfer. This layer can only be removed by laser, restoring full functionality to an anilox that would otherwise have to be reconditioned or even replaced. Therefore, our technology removes all types of dirt and solves all cylinder functionality problems, while reducing chemical purchases by a good 80%.
So the reason why a printer invests in a Laserclean machine is economic…
Undoubtedly. However, the main purpose for investing in this technology is to improve the quality and stability of the printing process. The anilox is the heart of the machine and only proper maintenance can ensure that it works properly, which in turn affects the doctor blade, the cliché and finally the entire printing group. The comparison with traditional cleaning systems is all to the laser's advantage, in terms of effectiveness and also because the prolonged use of solvents can ruin the surface of the cylinder, accelerating its obsolescence.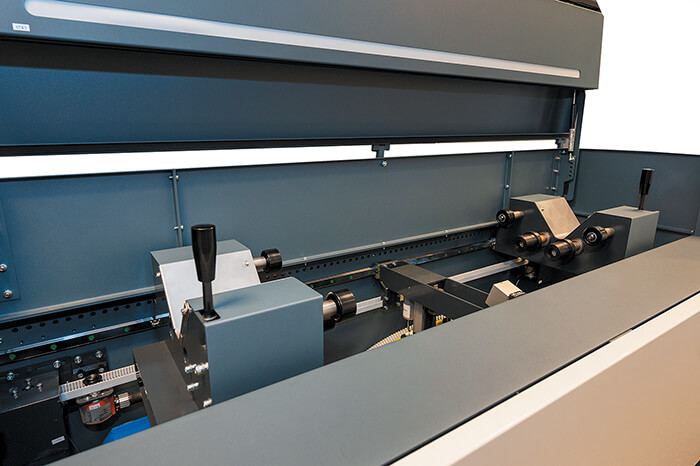 And what about sustainability?
This brings us back to the subject of chemistry: the use of solvents generates emissions, which must be managed, and special waste, which must be disposed of. But that's not all! The laser protects the safety of operators who, understandably, do not like handling chemicals.
The shortage of raw materials in recent months also affects solvent suppliers; has this opened new doors for you?
Yes. The current supply challenges for the printer are often an opportunity to rethink the cleaning process from the ground up and experiment with new solutions.
What type of company benefits from this type of investment?
All of them, from the large groups that place large orders and continue to expand their fleet to the small printer who works with a single flexo line and buys an ALCS from us every ten years. Keep in mind that our equipment doesn't cost millions of dollars for printing presses, but only a few tens of thousands of euros… This is an investment that pays for itself in one year, maximum one and a half years, with an average "life expectancy" per machine of around 30,000 hours of use.
How does your laser technology differ from others on the market?
While usually machines of this type work with a laser scanner, ALCS eliminates the scanner step by projecting the beam directly onto the cylinder, with a simpler and more precise process. With the same energy our machine works faster, and therefore is more productive, and ensures the same effectiveness on all types of cylinders and sleeves. Moreover, it is very easy to use: the purchase price of the machine includes staff training and in 2 or 3 days the training is completed. We receive very positive feedback from our customers, which translates into renewed trust that is the best confirmation of satisfaction. And the same happens with the distributors who support us in more distant markets, such as Screen in Japan, to mention a partnership we are particularly proud of.
How are you orienting your R&D: do you have projects in the pipeline?
Yes. We are working to complete our range of machines, which currently covers all printing widths, from narrow- to mid- and large web to operate on all types of cylinder. The next step will be the development of a model dedicated to corrugated printing, for which we have designed a model that works directly in-line, without having to extract the cylinders for cleaning. It will be ready next year and we will present it at the big trade fairs of 2022, from ICE-CCE in Munich to Labelexpo Europe, and certainly at Print4All in Milan, where we will be happy to meet our Italian customers.
[accordions]
[accordion title="Free demos and end-of-year discounts" load="show"]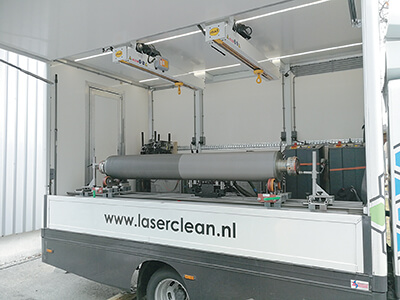 From December 13 to 22 Laserclean will be in Italy for a demonstration tour of the effectiveness of its ALCS systems for laser cleaning of anilox. A special truck, equipped with the complete system machine + 3D software for the "before and after" detection of the state of the roller, will go to the companies that have booked the demo, to perform free cleaning of their cylinders. In Italy – says the owner of Laserclean, Martin de Wit – we do not offer in-home cleaning : with this tour we aim to show in a concrete and direct way how simple and effective our technology is. And to promote a line of machines where guarantee technical and operational perfection, great price competitiveness and an extraordinarily long, useful life, with very low payback times. With an added value: at Laserclean, we provide our customers with operator training and digitized service, which is appreciated worldwide.
[/accordion]
[/accordions]