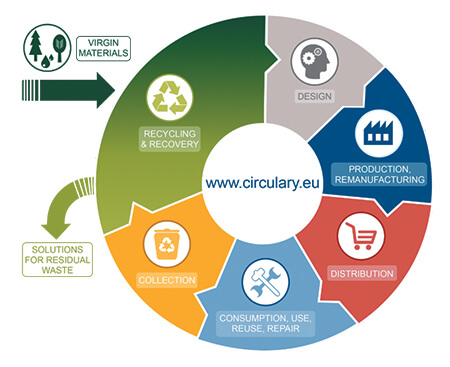 Sustainability at SunChemical has been at the heart of all our business processes for many years, and I would like to emphasize how it now drives our product development and relationships with customers and raw material suppliers.
Our commitment to Sustainability is demonstrated by the reduction of global CO2 emissions, the increasing use of bio-renewable and recyclable materials and the continuous research and development of innovative solutions to promote the value of sustainable choices; our work finds great consensus among our partners.
We are supporting Packaging Converters and Brand Owners to achieve their main sustainability goals, such as the reduction of packaging waste and greenhouse gas emissions, measured as CO2equivalent.
Goals such as: Redesigning a more functional and less impactful packaging for the environment, thanks to the choice of selected materials, introducing raw materials derived from renewable sources, and packaging solutions compatible with post-consumer Compostability and Recyclability processes.
Renewable sources
at the origin of circularity
Major Brand Owners are setting ambitious Sustainability targets and packaging is a critical component in achieving them.
A key starting point for initiatives dedicated to introducing sustainable solutions is the use of raw materials deriving from renewable sources, i.e. not of fossil origin such as coal, oil and natural gas, which tend to be exhausted over time. The increasing use of raw materials with high bio-renewable content is one way to move from a linear economy that produces waste that is difficult to manage, to a circular economy that self-sustains its processes and has lower impact on the environmental conditions that support life, also known as the biosphere.
Why safeguard the biosphere       
Recognizing the importance of sustainability as a matter of global concern, Sun Chemical is seeking to align its goals with those of the United Nations contained in the 2030 Agenda, an action plan for people, planet and prosperity.
Packaging printing inks are in a position in the Supply Chain that can support the goals that directly impact the Biosphere, such as
Climate change
Water pollution
Life on land and in the oceans
It is also clear that if the development of life on the planet is not ensured, it is unthinkable to talk about society and economy in the coming years, as both are based on a functioning Biosphere.
Human health and the health of the planet
Through collaboration with the most important leading Trade Associations in the field of Sustainability, Sun Chemical develops innovative solutions that are higher performance, and allows Converters and Brand Owners to achieve sustainability goals with differentiated solutions in the global market and a meaningful reduction of greenhouse gases in the environment.
It is crucial that new developments that are positive for the Planet do not involve risks to human health. The great achievements in product safety of food packaging inks must be maintained as regulations evolve to foster sustainability.
The use of approaches such as Risk Assessment, Migration Models and Bioassays will ensure compliance and even beyond compliance worldwide.
The principles that guide R&D
The main issues that are being addressed in the design of Sustainable Solutions are:
bio-renewability,
recycling,
compostability,
eco-efficiency.
Sun Chemical drives Sustainability in the various stages of Research and Development: promoting the use of sustainable/bio-renewable raw materials, through the reduction of the environmental impact of its products and increasing solutions for easily recyclable and compostable packaging.
Water-based bio-renewable inks
The SunVisto Aquagreen series of water-based bio-renewable inks represents one solution, as the formulation has increased the amount of raw materials obtained from renewable plant sources to replace petrochemical-based raw materials, which are becoming increasingly limited. These inks consist of a significant portion of plant-derived resins, such as starch, sugars and cereal production by-products, and are suitable for natural, cleaner and more environmentally friendly food packaging.
The scientific method of measurement
But how do you measure the bio-material content in inks? The percentage of bio-renewable material (BRC) present in inks and coatings can be determined by carbon isotope fractionation analysis. All living beings (animals and plants), in addition to the known Carbon C12, have a high content of the Carbon C14 isotope which comes from the stratosphere and through the process of photosynthesis enters into circulation first in plants and then in animals as they feed on plants.
SunVisto Aquagreen The Characteristics of SunVisto Aquagreen Inks are:
contain a high amount of bio-renewable resin,
have TUV Austria 'OK compost HOME' and 'OK compost INDUSTRIAL' certification and are suitable for printing compostable packaging,
multiple versions cover a wide range of applications for paper, corrugated, carton, and treated plastic film packaging,
have good drying speed and high resolubility when printing,
cost-effective (or cost-neutral),
deliver impactful reductions in GHG emissions.
Aquagreen inks can be used to print different types of packaging: boxes and wrappers for sandwiches, small take-away packages, bags, paper cups for hot and cold drinks, paper for food wrapping, paper and bio-film shoppers.
Inks that facilitate mechanical recycling
As far as solutions for mechanical recycling processes, we have recently developed products for new crystallizable PET printing labels that are applied to PET bottles with the aim of recycling 100% of the bottle and label PET. These are inks called "Washable".
These inks have been designed to detach from the plastic label film substrate during the caustic washing process, without discoloring the washing solution and without contaminating the PET bottle flakes that are being recycled. The ink particles can be separated by sedimentation and subsequent filtration.
In the case of OPP labels on PET bottles, the European PET Bottle Platform (EPBP) recommends the use of inks that stay on the labels through the caustic wash process.
A series of inks have been developed for printing OPP labels that are highly caustic resistant, as demonstrated by compliance to specific quick test procedures published by EPBP for evaluation of inks that are suitable for PET recyclability.
Certified compostability
With regard to compostability, barrier coatings have been developed that are suitable for direct food contact (DFC) and that, in addition to providing an excellent barrier to both hot and cold liquids, can replace the typical PE extrusion layer on cardboard to allow production of paper cups that are fully compostable both home and industrially compostable in accordance with Standard EN 13432.
OK COMPOST-certified inks have passed the Chemical Analysis tests for heavy metals and Ecotoxicity tests defined by Standard EN 13432 and can be used for printing compostable packaging at typical printing applications.
The maximum percentage that can be used is reported for each ink product on the certificate issued by the certification body.
Conclusions
In conclusion, sustainable solutions in the field of printing and packaging inks exist, are constantly evolving and will be increasingly requested and used by the market.
To learn more visit www.sunchemical.com/sustainability
by Egidio Scotini, Liquid Inks Technical Director at Sun Chemical Group SpA