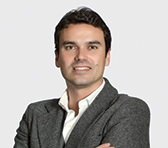 The contributions of digital printing to create packaging with a high value of innovation and sustainability – environmental, economic and social. The story of a brand open minded, with a bold design culture, and its technological partners.
by Abel Sanchez-Hermosilla Martinez, HP EMEA Lead of Brands, Agencies & Sustainability Innovation
Brands have always been in a race to capture the attention of consumers in a highly competitive retail market. In this race to win over consumers, one important factor that brands can't overlook is the role of packaging. Packaging not only serves to protect and preserve the product, but also plays a crucial role in establishing a brand's identity and its ability to stand out in a crowded marketplace. Brands who understand that the right packaging design can create a lasting impression on consumers, drive not only sales but also an increase in earned media.
Good for you, good for the planet
Incapto is one inspiring brand that exemplifies how businesses can align their values with consumer needs to achieve rapid growth while creating a positive impact on the world. This brand was born from a combination of passion for coffee, entrepreneurial spirit, and a desire to contribute to a more sustainable world. With its sustainable business model, Incapto has quickly become one of the fastest-growing start-ups in Southern Europe. Their slogan "good for you, good for the planet" perfectly captures their commitment to producing an accessible coffee that reduces environmental impact without generating unnecessary waste.
Incapto has created a unique value proposition that resonates with consumers who care about the environment and want to make a positive difference with their purchasing decisions. To strengthen their consumer engagement and social impact, Incapto collaborated with HP's Brands Innovation Team and shifted their flexible packaging production of coffee bags to HP Indigo technology. The digitally printed packaging added personalization and creativity, which helped Incapto stand out on crowded shelves and connect with consumers.
To further enhance its commitment to sustainability, Incapto shifted its corrugated transport boxes and displays to digital print using HP technology. In collaboration with Cartonajes Santorromán, a leading provider of corrugated packaging and displays in Spain, Incapto demonstrates a new way of doing things where sustainable commitment and innovation come together to change the coffee market.
The technology of responsibility
According to Rosana Cornejo, Incapto's Head of Marketing & Sustainability, it was essential to find a technology partner that shares their values and philosophy of responsible production. By using HP's innovative solutions, they were able to reduce waste and offers customization options that strengthen customer engagement and social impact. With this partnership, Incapto aims to set a new standard in the industry by providing eco-friendly solutions that don't compromise on quality or performance.
Cartonajes Santorromán is a company that truly values sustainability in their business operations. As a family-owned company, they prioritize protecting human health and the environment by ensuring a sustainable supply chain and minimizing waste. In 2021, Santorromán took their commitment to the next level by installing the HP PageWide C500 Press, a state-of-the-art water-based single-pass digital press. With this technology, Santorromán can improve their sustainability profile by minimizing waste and eliminating the need for water used for cleaning.
New business perspectives
The HP technology also enables Santorromán to reduce lead times and minimum order quantities, allowing them to better support campaigns of any size and optimize their clients' corrugated supply chain. Leopoldo Santorromán, owner of the company, is pleased to see more brands actively working to showcase their values through sustainable packaging design. By choosing the HP technology, Santorromán can further demonstrate their own commitment to sustainability while also meeting the needs of their clients.
Leveraging Santorromán's offset print quality and the capabilities of the HP C500 Press, Incapto furthered its commitment to sustainability last Christmas season by designing a box that can be used directly as a gift package, eliminating the need for additional wrapping paper, and reducing the amount of waste produced. This move is a testament to Incapto's focus on sustainable and innovative packaging solutions that align with its core values.
The collaboration between HP, Incapto, and Santorromán has been a fruitful one, and the parties continue to work together to identify additional opportunities for growth. By leveraging the HP C500 Press and Santorroman's sustainable supply chain practices, Incapto is well-positioned to de-seasonalize its product offerings and expand its market share beyond the peak sales period during the holiday season. This partnership is a great example of how innovation and sustainability can come together to drive growth and create value for both businesses and consumers alike.