Brands want everything from packaging: sustainability, effective barriers even in challenging applications, a clearly perceived "naturalness," easy recyclability… And the industry invests millions in R&D, with results hitherto never seen. Nanni Bertorelli, Product Line Director Coating & Laminating at Bobst, takes stock of the achievements and upcoming goals of a path that opens up new frontiers: technological, business and inter-branch relations. With potential benefits for all.
"A few weeks ago – states Nanni Bertorelli, Product Line Director Coating & Laminating at Bobst, – I was in India at a packaging seminar where recyclability and sustainability issues quickly took center stage. The solutions at the center of attention were the same ones that we too have been developing with increasing intensity since we inaugurated our technology centers on coating and laminating in 2019: on the one hand, polyolefin-based mono-material structures, alternatives to multi-material structures that are difficult to recycle, and on the other hand, paper-based structures, which are certainly natural but that have barriers that all need to be constructed. It has been very stimulating, and at the same time it has confirmed the international scope of the projects we have initiated in recent years with a multiplicity of technological partners, often under the direct stimulus of global fresh food brands".
Which ones, Bertorelli himself tells us in this interview, assisted by Sara Alexander – marketing and communications manager for the gravure  printing, laminating and coating lines at Bobst Italia in San Giorgio Monferrato – who inspired the interview and made the encounter possible.
At K Bobst is presenting many sustainable packaging projects based on polyolefin film, developed with major supply chain partners, some of them unreleased and some already ripe for industrialization. Does plastic therefore continue to dominate the market?
Plastic, as is well known, cannot be replaced in all applications, so much so that brand owners are pursuing both paper and polyolefin-based film packaging projects as alternatives to traditional ones. At Bobst we have geared R&D to both types of material, which we present under the common brand name OneBARRIER. And because we have been working for a long time, with different partner ecosystems and on so many projects, we are now able to propose many different solutions that can attain the ultimate goal of all this work: recyclability. At the fair we are bringing many examples of mature developments as well as some of our newer solutions.
What distinguishes your design approach?
What we have done that is extra and different from other players is to develop EVOH  free PE substrates, which provide the same  barrier level without the huge costs and increasing problems of availability of that material. The savings are significant, and likewise the qualitative results.
With what performance?
I can cite a concrete example. In collaboration with a number of particularly innovative suppliers – including Dow, Zermatt, Michelman and Sun Chemical – we have developed a high-barrier, single-material, mono-oriented PE film that takes advantage of the performance of the barrier coating and of the AlOx GEN II process for transparent structures and the AluBond process for metallized structures, as an alternative to the EVOH layer. It is a transparent or opaque solution, replacing metalized polyester, with high barrier properties: we are talking about WVTR (moisture) <1,0 g/(m² d) and OTR (oxygen) < 1,0  cm³/(m² d) in the case of AlOx and even lower values of 0.1 for the AluBond. We are therefore talking of barrier levels that are equivalent to that of aluminum. We offer in our field, the most advanced technology of all of our  partners, and the result is truly inspiring.
What obstacles have you had to face?
Those involving the machinability of different materials. PE, for example, is extremely heat sensitive; it also has non polar surface  and is therefore not very receptive to metallization. On this aspect we have worked a lot together with film manufacturers (with Dow Chemical Bobst has an agreement for the development of ad hoc resins, ed.) and with those who make coatings to identify the types of primers and lacquers that can prepare the material for subsequent processing. Then we have to remember that PE is stretchable, thus not easy to handle in the machine, but above all, once the desired barrier properties are obtained, they have to be preserved until the end of the packaging process… In short, a lot of work.
What about bioplastics?
They represent an interesting niche, certainly to be developed, but right now they have such a high cost that few people are currently pushing in this direction.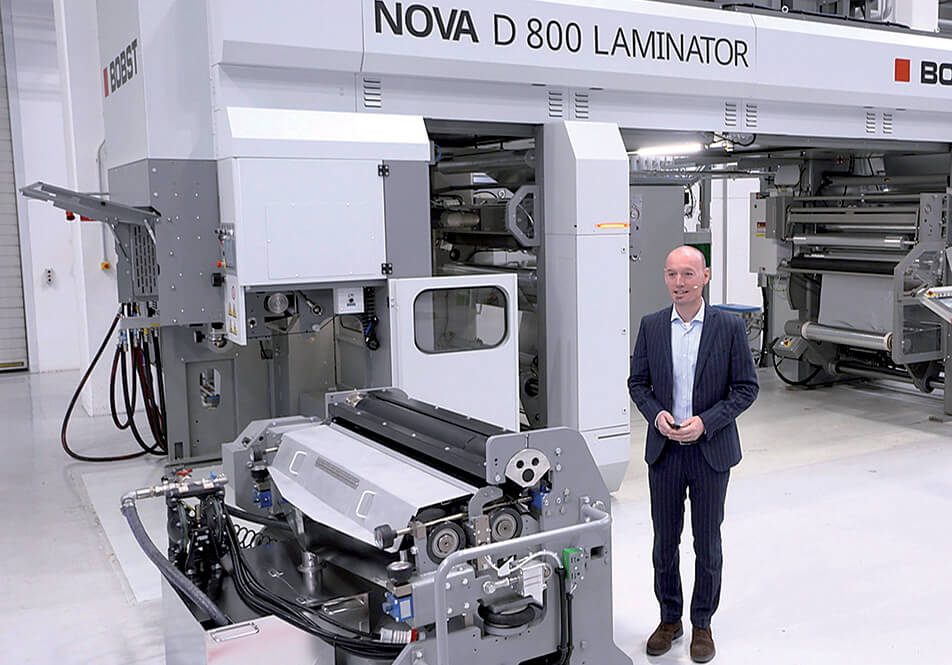 What elements of the machines or parts of the process did you work on to be able to process the new materials?
It was a matter of fixing the optimal parameters to suit each occasion, for example in the running of the PE tape or the drying of a paper-based film, which must be effective on a lacquer and then restore the natural moisture of the substrate in view of subsequent processing. But the biggest issue concerns the consistency of the results i.e., their constancy over time. Getting one reel perfect and the next one not, understanding why, and remedying it, has been the subject of a great deal of work by technicians and the maniacal control of automation at each stage of the coating process.
At K we will we also see the developments of the packaging project with recycled PP, carried out under the auspices of Ceflex?
Yes, we presented it at the beginning of the year because it represents an important part of the circular economy. If we fail to reuse secondary raw materials in packaging, we miss the goal of reusing recycled plastic, the last step in the cradle-to-cradle journey. It's true that we still have so much to do, and that for the time being applications are only in non-food – our pouch has been conceived for a liquid detergent – but things are moving at all levels: both regulatory and technological.
All of these projects are the result of joint work between technology providers, converters and brand owners. How have relationships within the market changed?
A lot. Before the "green wave" activated this impetuous development movement, each piece of the supply chain was doing its job, and the relationships were the traditional ones of supplier and customer. Today we work both with converters, whose processes we know much better, and with brand owners, who recognize us as major players and natural interlocutors and open new horizons for us on downstream packaging processes. By having the competence centers and the machines to do the development, we have become the linchpin of the various activities: the only ones who have all the technologies, the ones who can devote machines and personnel to experiments without stopping production, and, by now, also the ones who have a complete view of the packaging design, manufacturing and use process.
Does this result in new business openings?
Certainly. Substrate manufacturers are looking with interest at machinery that enable them to supply materials that are already barriered and, therefore, at higher margins. Larger converters are already investing in new coating and laminating technologies, but we are also working on the development of solutions for the smaller converters who don't necessarily have the same investment options. As for brands, they have suppliers who are increasingly competent and aware of their issues, that is, capable of responding to their needs.
And how do you direct R&D today? What are the next goals?
We have started many new projects, many still confidential, both paper- and plastic-based. More generally, we are working on expanding the field of applications, creating recyclable structures compatible with sterilization processes, to the world of liquids and more. The moment is exciting. I have been working in this industry for 21 years, and I have never seen so much fervor in the market and so much ferment on the ground of innovation as over the last three years.
Paper? New horizons for a valuable material
To date, the recyclability of plastic films faces the limitations of sorting and recycling technologies while paper, separated at source, is recycled more easily. It is also universally perceived as inherently "natural," which is why all brands have cellulosic-based packaging projects that are engaging supply chain R&D intensively.
Technology's achievements
The results obtained to give paper the barriers required by food packaging are extraordinary, Bobst states. "The structures we have developed with our partners – says Sara Alexander, marcom gravure, laminating and coating manager at Bobst Italia in San Giorgio Monferrato, Italy, – are now fully comparable to metallized polyester, with high-level oxygen and water vapor barriers (WVTR 1 g/sqm/day, ed.): the best currently on the market. Although of course they are not good for all types of packaging: great for dry or powdered products but not yet usable for sterilized foods".The problems faced and solved are considerable, not least because, it should be remembered, the amount of "chemistry" that can be added to paper without distorting it is limited. "We had to learn how to distinguish between the various types of paper, which are very different from each other, study the nature and behavior of coatings and barrier lacquers, learn how to produce structures that run on existing wrapping machines with a minimum of modification and without losing productivity, and ensure that performance is maintained during the various converting stages, when problems related to barrier deterioration were revealed…".For the machine manufacturer, the leader of so many projects, the reward for so much effort is an expanding demand and the opening up of new lines of business, not only among converters but also among papermakers, who are interested in differentiating their offerings with products with greater added value.
One Complete Solution: what's new from Bobst at K
A booth where we show samples of materials and packaging – virgin and recycled plastic film, but also cellulosic-based novelties – developed and industrialized in the last four years together with supply chain partners, present with their experts. Machine screens perfected to achieve optimal performance and productivity goals.
The new pay-off "One complete solution" "to say loud and clear, to those who still identify us with one technology or a specific application area, that our offer covers the entire processing cycle of all types of packaging, flexible and cellulosic. And we organize it into complete clusters of solutions – of lamination, coating, prepress, printing, workflow, controls… – declined according to requirements in flexo, roto, lamination and so on".
Sara Alexander – marketing and communications manager for the gravure printing, laminating and coating lines at Bobst Italia in San Giorgio Monferrato – anticipates the structure and objectives of the Bobst group's presence at the world's largest plastics and rubber processing expo. Where it will be an exception to its decision not to exhibit at trade shows to invest in its Competence Centers as a meeting point with customers and partners, "because there you can touch machines, attend trials, test projects and materials, and discuss with experts".
K 2022 is an exception, then, but not entirely: "We will not bring machines to the fair – Alexander reiterates – however, every day of the event (except Sunday, ed.) we will organize trips to our Competence Center in Bielefeld, just two hours away from the exhibition center. Here, guests will be able to refresh themselves and attend as many demos as they want on printing and laminating machines, and then be driven back to Düsseldorf in time for dinner".
A "One complete solution" on the exhibition floor as well, then, integrated with the OH that will take place on October 18 in Manchester with partners UPM and Michelman to talk about the innovative oneBARRIER FibreCycle. "This paper-based high-barrier monomaterial solution that can replace polymeric structures currently on the market," says Alexander, "is a testament to how Bobst is also leading the industry in the development of cellulosic barrier packaging.