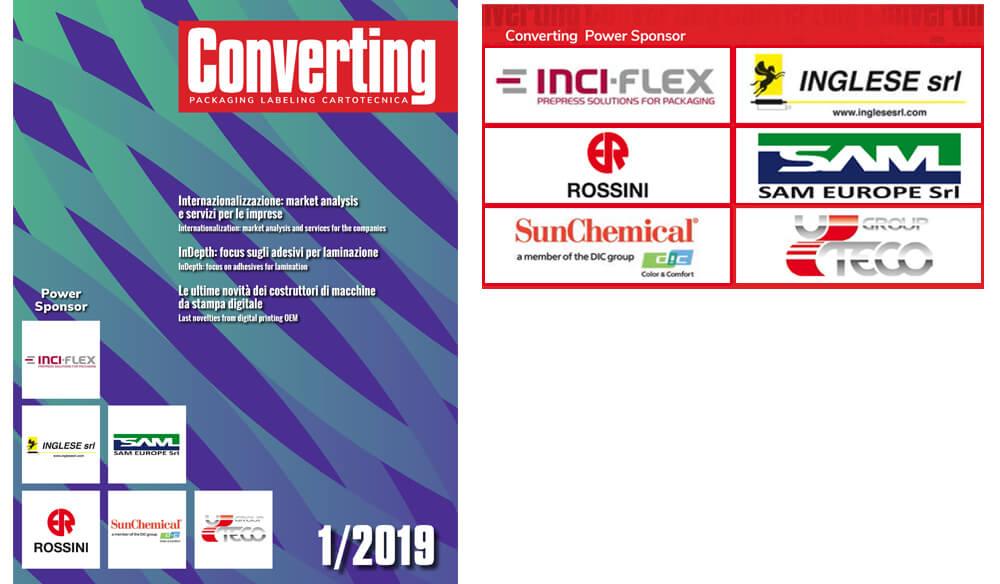 An editorial plan full of innovations, that of the Converting magazine 2019 platform, conveyed on the various paper and digital channels that make up our B2B communication system in the packaging, labels and paper&board printing and converting business community. We have enhanced our digital channels, where we will be even more influential on social media and more "one-to-one" with our newsletters – also this one international, inaugurated last year – that appeal to readers and advertisers (by the way: have you seen that the number of Converting sponsors is increasing? And what names!)
And then we have enhanced the contents of our paperbased magazine: The one "that stays with you", which you consult, where you mark the topics you wish to explore with "stickers", where the pages are torn out to be preserved and shared. We have inaugurated the back on Sustainability; re-launched the technological InDepth section (after Basf it is now the turn of Sun Chemical); extended the dialogue with users; enriched the information on outlet markets, especially the international ones … Read and comment: we value your opinion!
We have also strengthened our internationalization project, to be read by an ever increasing number of foreign operators – buyers and influencers on the markets of our advertisers. This year Converting magazine will be distributed at the canonical fairs (ICE Europe and CCE International, Print China, Labelexpo Europe, K …) but also those of the Printech circuit, Assografici, Flexo Day Bologna and Sud, specialized conferences and company events … and of course at the events associated with Print4All, starting from the next big Conference of next March 21-22 in Milan, of which we are partners.
There is much talk of the national economy in terms of uncertainty but, seen closely, the companies are running full tilt and the printing and converting sector is full of wide-ranging initiatives. Converting magazine wagers on their success. 2019 will no doubt be challenging, perhaps tiring, but certainly fruitful with sowing and harvesting. We'll keep a bottle ready to celebrate.
Click on the cover above to see the magazine online version.